'Hundred Miles' - Crowder Acoustic Performance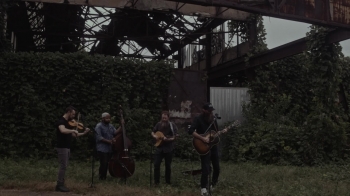 Award-winning artist, David Crowder, is joined by his band for an acoustic performance of 'Hundred Miles.' This single and other worship songs can be found on the new album 'I Know A Ghost.'

"And I can't help myself
There is no one else
Like You, God
And I could sing a song
A hundred miles long
But it won't compare"
Crowder released his first solo project back in 2012. Since then, we have come to know this talented Christian artist for his unique style of worship music and moving lyrics. There is always so much passion and emotion in each one of his songs. Crowder truly has a way of selecting the perfect words to bring a whole new generation to the Lord.
"Bless the Lord, oh my soul
Sing praise to Him and Him alone
Bless the Lord, oh my soul
Sing praise with me, you Heavenly hosts"
The Lord has given us so many blessings in this life and there are no words great enough to praise Him. Thankfully, we can join our voices in song and let the whole world know of His amazing grace. The angels in Heaven are sure to rejoice at this beautiful noise from here on Earth. Who else is ready to sing out loud for everyone to hear?
Isaiah 41:10 "So do not fear, for I am with you; do not be dismayed, for I am your God. I will strengthen you and help you; I will uphold you with my righteous right hand."
Embed

crowder

5588 views

2019-01-16T11:00:00

Award-winning artist, David Crowder, is joined by his band for an acoustic performance of 'Hundred Miles.' This single and other worship songs can be found on the new album 'I Know A Ghost.'

"And I can't help myself
There is no one else
Like You, God
And I could sing a song
A hundred miles long
But it won't compare"

Crowder released his first solo project back in 2012. Since then, we have come to know this talented Christian artist for his unique style of worship music and moving lyrics. There is always so much passion and emotion in each one of his songs. Crowder truly has a way of selecting the perfect words to bring a whole new generation to the Lord.

"Bless the Lord, oh my soul
Sing praise to Him and Him alone
Bless the Lord, oh my soul
Sing praise with me, you Heavenly hosts"

The Lord has given us so many blessings in this life and there are no words great enough to praise Him. Thankfully, we can join our voices in song and let the whole world know of His amazing grace. The angels in Heaven are sure to rejoice at this beautiful noise from here on Earth. Who else is ready to sing out loud for everyone to hear?

Isaiah 41:10 "So do not fear, for I am with you; do not be dismayed, for I am your God. I will strengthen you and help you; I will uphold you with my righteous right hand."

Today's Devotional
A Prayer for Repentance - Your Daily Prayer - July 16
Top Artists