'Even Then' Live From Micah Tyler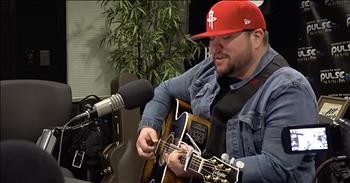 Micah Tyler performs a special live rendition of his single 'Even Then.' This worship song is all about God standing by our side, no matter the sin or error.

"When the days up ahead look a little bit brighter
But the grip of the past holds a little bit tighter
I'm reminded Your grace never asks for perfection
Oh I'm restored 'cause I'm Yours and I stand forgiven"
Micah Tyler entered the music scene back in 2013, but his was his album 'Different' that truly thrust him into the spotlight. His songs "Never Been A Moment" and "Different" both charted on the Christian Billboard charts. And his newest single is following right in those footsteps. With powerful lyrics and a soul-filled voice, it's no wonder everyone is talking about this rising artist.
"And even when the waters won't stop rising
Even when I'm caught in the dead of a night
I know
No matter how it ends
You're with me even then"
This song truly reminds us that the Lord is there for us at all times. Even when things may get dark or we feel we have strayed too far, God is always waiting with open arms to take us back home. What a wonderful feeling knowing that we have the strength and power of the Lord with us forever.
Joshua 1:9 "Have I not commanded you? Be strong and courageous. Do not be frightened, and do not be dismayed, for the LORD your God is with you wherever you go."
godtube-inspiration

5290 views

2019-01-28T11:10:23

source: Pulse FM South Bend Micah Tyler performs a special live rendition of his single 'Even Then.' This worship song is all about God standing by our side, no matter the sin or error.

"When the days up ahead look a little bit brighter
But the grip of the past holds a little bit tighter
I'm reminded Your grace never asks for perfection
Oh I'm restored 'cause I'm Yours and I stand forgiven"

Micah Tyler entered the music scene back in 2013, but his was his album 'Different' that truly thrust him into the spotlight. His songs "Never Been A Moment" and "Different" both charted on the Christian Billboard charts. And his newest single is following right in those footsteps. With powerful lyrics and a soul-filled voice, it's no wonder everyone is talking about this rising artist.

"And even when the waters won't stop rising
Even when I'm caught in the dead of a night
I know
No matter how it ends
You're with me even then"

This song truly reminds us that the Lord is there for us at all times. Even when things may get dark or we feel we have strayed too far, God is always waiting with open arms to take us back home. What a wonderful feeling knowing that we have the strength and power of the Lord with us forever.

Joshua 1:9 "Have I not commanded you? Be strong and courageous. Do not be frightened, and do not be dismayed, for the LORD your God is with you wherever you go."
Today's Devotional
A Prayer for Deep Faithfulness - Your Daily Prayer - July 19
Top Artists