Daughter Sings At Mom's Wedding As She Walks Down The Aisle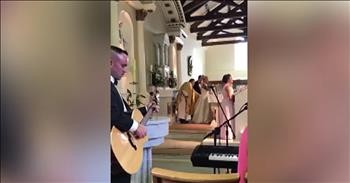 An emotional moment is caught on camera when a daughter sings at mom's wedding as she walks down the aisle. It's a very special day for Tracy White Forde. She is marrying the love of her life and she has her children right by her side the entire way.

As Tracy walked down the aisle on her wedding day, her son, Tyler, escorted her. And to make the moment even more memorable, her teenager daughter started to sing. Just watch the incredible moment when Tracy's daughter, Leah, stands at the front of the church and sings the words to her mom's favorite song 'I Promise You' by Donna Taggart.
"My love, here I stand before you
I am yours now, from this moment on
Take my hand, only you can stop me shaking
We'll share forever, this I promise you."
What beautiful words to celebrate such a memorable day. I am so glad that this special serenade was all captured on camera. Now, this family will be able to look back on the wedding day with even more love and joy. We're wishing this couple a lifetime of happiness together.
Mark 10: 6-9 "6 "But at the beginning of creation God 'made them male and female.' 7 'For this reason a man will leave his father and mother and be united to his wife, 8 and the two will become one flesh.'So they are no longer two, but one flesh. 9 Therefore what God has joined together, let no one separate."
godtube-inspiration

18916 views

2019-01-17T16:26:21

source: Caters_News An emotional moment is caught on camera when a daughter sings at mom's wedding as she walks down the aisle. It's a very special day for Tracy White Forde. She is marrying the love of her life and she has her children right by her side the entire way.

As Tracy walked down the aisle on her wedding day, her son, Tyler, escorted her. And to make the moment even more memorable, her teenager daughter started to sing. Just watch the incredible moment when Tracy's daughter, Leah, stands at the front of the church and sings the words to her mom's favorite song 'I Promise You' by Donna Taggart.

"My love, here I stand before you
I am yours now, from this moment on
Take my hand, only you can stop me shaking
We'll share forever, this I promise you."

What beautiful words to celebrate such a memorable day. I am so glad that this special serenade was all captured on camera. Now, this family will be able to look back on the wedding day with even more love and joy. We're wishing this couple a lifetime of happiness together.

Mark 10: 6-9 "6 "But at the beginning of creation God 'made them male and female.' 7 'For this reason a man will leave his father and mother and be united to his wife, 8 and the two will become one flesh.'So they are no longer two, but one flesh. 9 Therefore what God has joined together, let no one separate."
Today's Devotional
A Prayer of Love from 1 Corinthians 13 - Your Daily Prayer - March 29
Top Artists