Son's Transformation from Thief Leads Dad to Abandon Darkness and Plant Church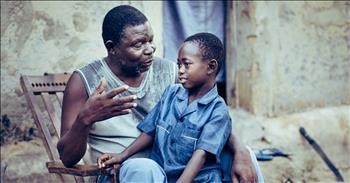 Tchao noticed his son's transformation as soon as Kevin began studying The Greatest Journey lessons. During these classes, Kevin prayed to receive Jesus Christ as his Lord and Savior. Prior to receiving an Operation Christmas Child shoebox, Kevin was troubled and had become a thief.

"There were handkerchiefs and toys and all kind of things he enjoys in the shoebox," Kevin said. Along with the gift box, Kevin received a booklet that explained the Gospel.
A short time later, Kevin began returning to church to participate in The Greatest Journey—the discipleship program developed by Samaritan's Purse for churches to teach children who receive Operation Christmas Child shoeboxes.
"From the moment that he started studying that booklet, it had become a light for us in this house," Tchao said. "We realized that our son had changed, so we said, let us go together to the church for us to be changed, too.
It had been years since Tchao had set foot inside a house of worship. When he started attending church, he responded to the Gospel, repented of his sins, and trusted Christ as his Lord and Savior.Tchao Beleyi used to be haunted by nightmares of people chasing him down to beat him. "When I would sleep, in my dreams, I would see people following me, pursuing me," he said.
This is when Tchao's dark dreams ceased and a new light shined in his home. The family all started attending church together. They now read the Bible together as part of their morning routine before going to school or to the fields where they grow corn and beans and raise pigs.
As he grew in his faith, Tchao started to feel a burden for a part of town where he owned several acres of property. There was no church nearby, so he decided to donate the property so a church could be built on the land.
"Before I was in darkness, but then I received Christ," Tchao said. "Some are still in the same darkness. And I want the church to be there for those who are still in darkness to see the light and come."
For the past 25 years, Operation Christmas Child, a project of Samaritan's Purse, has partnered with local churches in more than 100 countries to distribute gifts to boys and girls in need and tell them about God's Greatest Gift—Jesus Christ
samaritanspursevideo

471 views

2018-10-29T14:47:00

source: Samaritan's Purse Tchao noticed his son's transformation as soon as Kevin began studying The Greatest Journey lessons. During these classes, Kevin prayed to receive Jesus Christ as his Lord and Savior. Prior to receiving an Operation Christmas Child shoebox, Kevin was troubled and had become a thief.

"There were handkerchiefs and toys and all kind of things he enjoys in the shoebox," Kevin said. Along with the gift box, Kevin received a booklet that explained the Gospel.

A short time later, Kevin began returning to church to participate in The Greatest Journey—the discipleship program developed by Samaritan's Purse for churches to teach children who receive Operation Christmas Child shoeboxes.

"From the moment that he started studying that booklet, it had become a light for us in this house," Tchao said. "We realized that our son had changed, so we said, let us go together to the church for us to be changed, too.

It had been years since Tchao had set foot inside a house of worship. When he started attending church, he responded to the Gospel, repented of his sins, and trusted Christ as his Lord and Savior.Tchao Beleyi used to be haunted by nightmares of people chasing him down to beat him. "When I would sleep, in my dreams, I would see people following me, pursuing me," he said.

This is when Tchao's dark dreams ceased and a new light shined in his home. The family all started attending church together. They now read the Bible together as part of their morning routine before going to school or to the fields where they grow corn and beans and raise pigs.

As he grew in his faith, Tchao started to feel a burden for a part of town where he owned several acres of property. There was no church nearby, so he decided to donate the property so a church could be built on the land.

"Before I was in darkness, but then I received Christ," Tchao said. "Some are still in the same darkness. And I want the church to be there for those who are still in darkness to see the light and come."

For the past 25 years, Operation Christmas Child, a project of Samaritan's Purse, has partnered with local churches in more than 100 countries to distribute gifts to boys and girls in need and tell them about God's Greatest Gift—Jesus Christ
Today's Devotional
A Romans 8:28 Prayer - Your Daily Prayer - December 13
Top Artists