'Burn the Ships' (Official Music Video) by for KING and COUNTRY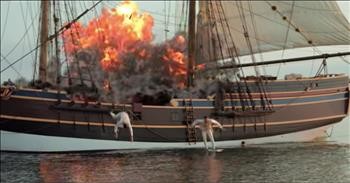 Christian duo For King and Country is back with a new album titled "Burn the Ships". The pair are known for their impressive music videos and often laid back themes. In the title track by the same name, brothers Joel and Luke Smallbone are tackling deeper content than they have in previous albums. Each song on the album has a personal real life experience attached to it.

"You could go through these songs and I could point out something that Joel walked through or something that I walked through very, very clearly."
The song "Burn the Ships" has a deep connecting point for Luke. It was inspired by his wife Courtney's battle with addiction. After pregnancy, she found herself addicted to anti-nausea meds and came to a point where she needed to remove all reminders of the addiction she wanted to place in her past. But Courtney realized that her unexpected struggle and subsequent healing could be helpful to others. She asked Luke to tell her story.
Going off of their experience, Luke recalled a history story that resonated. The tale was that of an explorer going to a new land realized that his crew was too attached to the comfort of their ships. Even though that comfort zone was dingy, cramped, and miserable they didn't want to leave for an unknown future. He had the crew burn the ships so there was no option of retreat. As Courtney was healing from her addiction, she too "burned" the reminders of those struggles in a way to move forward without an option of looking back.
"The flushing of the pills was the burning of the ships for my wife and for us to step into a new world, a new day. That was four years ago now."
As so many are facing various battles and addictions in their lives, this new song offers hope for a brighter tomorrow.
"Burn the ships we're here to stay / There's no way we could go back / Now that we've come this far by faith / Burn the ships we've passed the point of no return / Our life is here so let the ships burn and burn"
We l
for-king-and-country

20077 views

2018-10-11T12:20:54

source: ForKingAndCountry Christian duo For King and Country is back with a new album titled "Burn the Ships". The pair are known for their impressive music videos and often laid back themes. In the title track by the same name, brothers Joel and Luke Smallbone are tackling deeper content than they have in previous albums. Each song on the album has a personal real life experience attached to it.

"You could go through these songs and I could point out something that Joel walked through or something that I walked through very, very clearly."

The song "Burn the Ships" has a deep connecting point for Luke. It was inspired by his wife Courtney's battle with addiction. After pregnancy, she found herself addicted to anti-nausea meds and came to a point where she needed to remove all reminders of the addiction she wanted to place in her past. But Courtney realized that her unexpected struggle and subsequent healing could be helpful to others. She asked Luke to tell her story.

Going off of their experience, Luke recalled a history story that resonated. The tale was that of an explorer going to a new land realized that his crew was too attached to the comfort of their ships. Even though that comfort zone was dingy, cramped, and miserable they didn't want to leave for an unknown future. He had the crew burn the ships so there was no option of retreat. As Courtney was healing from her addiction, she too "burned" the reminders of those struggles in a way to move forward without an option of looking back.

"The flushing of the pills was the burning of the ships for my wife and for us to step into a new world, a new day. That was four years ago now."

As so many are facing various battles and addictions in their lives, this new song offers hope for a brighter tomorrow.

"Burn the ships we're here to stay / There's no way we could go back / Now that we've come this far by faith / Burn the ships we've passed the point of no return / Our life is here so let the ships burn and burn"

We l
Today's Devotional
A Prayer for Communication During Conflict - Your Daily Prayer - August 13
Top Artists