'For All the Saints' - Beautiful Hymn Performed by Trevor Thomson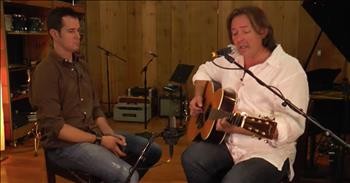 We're loving this simple take by Trevor Thompson on the traditional hymn "For All the Saints". If you grew up in a church with a choir and organist, then like us, you are probably most familiar with hearing this piece complete with big swells and powerful voices. Hearing the hymn sung in a stripped down, intimate fashion gives new life to this beautiful song!

Christian music artist, Trevor Thomson, is known for his soothing voice and incredible guitar abilities. Trevor grew up in church and has a background in leading worship. In this interview with fellow worship musician Cooper Ray, Trevor shares the importance of this hymn to his newest music collaboration in "Spirit and Song 3". He hoped that his interpretation of "For All The Saints" would help fellow believers to view these hymns in a more tangible way. What if we were able to talk to those believers who have gone on to Glory?
"For all the saints who from their labors rest, who Thee by faith before the world confessed; Thy name, O Jesus, be forever blest. Alleluia, Alleluia!"
There is something comforting in older hymns. Knowing that our ancestors were thinking similar thoughts and that we have a connection through our faith and these hymns is so moving! We love rejoicing through these songs and realizing that we are just one of many generations who have sung these same words of praise!
"But when there breaks a yet more glorious day; the saints triumphant rise in bright array; the King of glory passes on His way. Alleluia, Alleluia!"
GodTube-Music

4077 views

2018-10-08T15:53:00

source: OCPmusic We're loving this simple take by Trevor Thompson on the traditional hymn "For All the Saints". If you grew up in a church with a choir and organist, then like us, you are probably most familiar with hearing this piece complete with big swells and powerful voices. Hearing the hymn sung in a stripped down, intimate fashion gives new life to this beautiful song!

Christian music artist, Trevor Thomson, is known for his soothing voice and incredible guitar abilities. Trevor grew up in church and has a background in leading worship. In this interview with fellow worship musician Cooper Ray, Trevor shares the importance of this hymn to his newest music collaboration in "Spirit and Song 3". He hoped that his interpretation of "For All The Saints" would help fellow believers to view these hymns in a more tangible way. What if we were able to talk to those believers who have gone on to Glory?

"For all the saints who from their labors rest, who Thee by faith before the world confessed; Thy name, O Jesus, be forever blest. Alleluia, Alleluia!"

There is something comforting in older hymns. Knowing that our ancestors were thinking similar thoughts and that we have a connection through our faith and these hymns is so moving! We love rejoicing through these songs and realizing that we are just one of many generations who have sung these same words of praise!

"But when there breaks a yet more glorious day; the saints triumphant rise in bright array; the King of glory passes on His way. Alleluia, Alleluia!"
Today's Devotional
A Prayer for a New Home - Your Daily Prayer - June 17
Top Artists