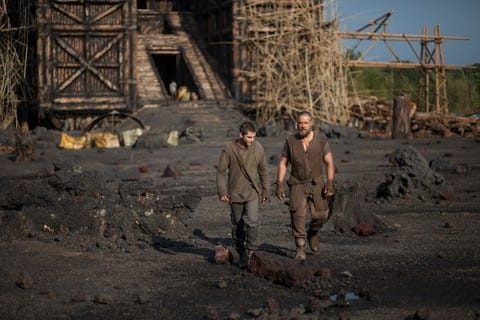 YouVersion, the Bible app that has been downloaded by over 135,000,000 users, has reported a 300% spike from users who have specifically gone back or referenced the Old Testament  story of Noah since "NOAH" the movie was released in theaters last week.  In short, the movie has inspired people regardless of their personal stance to go back, re-read the old testament, and share the reference with their friends and colleagues.
The fact that this movie has pointed people back to the biblical account is what many have been praying for. Continue to have those discussions with those that see the film and point them to the Bible to compare and find the biblical story of Noah.  F & E Writer Pamela Rose Williams pointed out in her review of the Noah these sections of the Bible that should be studied before and after watching the movie.
Cain and Seth (Tubalcain and Noah) – Genesis 4:13-26; Genesis 5:1-32

Why the Flood and The Giants – Genesis 6:4-7, 11-12

The Ark

The description – Genesis 6:13-16.

The purpose – Genesis 6:17.

What to take onto the ark – Genesis 6:18-21; Genesis 7:2-9

Noah and his family – Genesis 7:13; 22-23; 8:16

The Olive Branch (leaf) – Genesis 8:11

The Rainbow – Genesis 9:11-17
Christian singer, songwriter, and worship leader Kim Walker-Smith performs her single ["Spirit Break Out"] for the movie "NOAH" which is currently playing in theaters. "NOAH" stars Russell Crowe, Jennifer Connolly, Emma Watson, and Anthony Hopkins.
Godtube Exclusive – NOAH Christian Music Video from gracehillmedia on GodTube.
Kim's band Jesus Culture is currently on a nationwide tour including the Catalyst Conference in Dallas. This touching music video includes some of the beautiful cinematography and images that audiences and critics have hailed from the movie. Click on the link (above) to view the video.