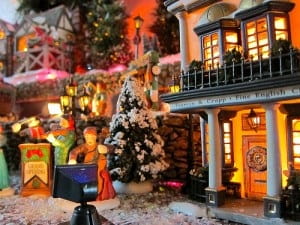 Everything about Christmas is exciting for kids. Even at a young age, they understand that there is a special type of magic in the air this time of the year. My son is almost 2 years old and already he shouts "Ho Ho Ho!" at just about every bearded man he sees. Last year, that was about as far as we could go in teaching him about Christmas. This time around, however, he is beginning to understand that there is just a bit more to this whole thing. I can't wait to teach him just how magical the day really is. The list below is full of books that will light up his eyes and help him to understand that, before there was a Santa, there was a Savior. Read on to find your favorite and maybe scratch another gift off your list.
10) Veggie Tales-Christmas is Finally Here
By Greg Fritz

The beloved children's series does Christmas and does it well. You don't have to be a Veggie tales nut(as we are in this house), to enjoy this fun take on the seemingly agonizing wait for Christmas day to arrive. Kids will identify with the feeling of time ticking just a little too slowly, while being reminded that the true reason for the season was, and is, worth the wait.
9) The Legend of St. Nicholas-A Story of Christmas Giving
Dandi Daley McCall

This is a well written and gorgeously illustrated book that tells the story of the real St. Nicholas and the origins of Christmas giving. While the wording and concepts may be geared towards older children, the pictures and overall message make it a story that can be broken down for those a bit younger. Discovering that the real Santa Claus gave gifts to symbolize Christ's gift to us, is a wonderful lesson for children of all ages.
8) The Parable Series: The Pine Tree Parable
Liz Curtis Higgs-

The Pine Tree Parable is the story of a farming family and their tender efforts to produce Christmas trees from seedlings. Though they have access to the most beautiful trees for themselves, they will soon be challenged to remember what Christmas giving is truly about.
7) Humphrey's First Christmas
By Carol Heyer

The spirited tale of a (somewhat) loveable camel, named Humphrey, who learns that giving is better than receiving, especially when the recipient is the baby Jesus. This story is funny, the pictures are super engaging, and the message is beautiful. This is an absolute favorite.
6) Happy Birthday Jesus
By Michelle Medlock Adams
What better way to teach children the reason we celebrate Christmas than to throw a birthday party for Jesus? That's the message behind this fun, easy to understand book, detailing the preparations for Jesus's birthday party. From the balloons, to the cake, the kids go all out to show their love for Jesus on his special day.
5) Who Is Coming to our House?
By Joseph Slate

If you have toddler age children, this is the book for you. The nativity story is told from the point of view of the animals in the manger, as they prepare for a special guest to arrive. The story and illustrations in this board book (yay, the baby can't eat it!) are perfect for toddlers because they are simple, sweet and melodic. This book reads almost like a lullaby and the pictures will make your child want to reach out and touch them.
4) Santa's Favorite Story: Santa Tells the Story of the First Christmas
By Hisako Aoki

Santa has fallen asleep in the woods on Christmas Eve and the animals are worried he will miss Christmas. Upon awakening, Santa tells the woodland creatures the story of the very first Christmas. He closes by telling the animals that the birth of Jesus was God's gift of love to the world and that there is no greater gift. I loved this book for its use of Santa as the storyteller and the adorable illustrations.
3) We Believe in Christmas
By Karen Kingsbury
The holiness that surrounds Christmas is often, and easily, lost in the midst of the madness of the season. This book serves as a reminder of the reverence and awe that was present that first Christmas night. We are shown the basis for our traditions and the symbolism behind so much of what we often consider trivial. The words read like a poem but the rhythm of the story is captivating. You'll find yourself reading this one aloud every year.
2) God Gave Us Christmas
By Lisa Tawn Bergren
Any story featuring bears on the cover is an immediate attention grabber for my son. This precious story of a little bear and her Mama held his attention, and that of my older daughter, the entire way through. Little Cub wants to know where Christmas came from, so Mama takes her on a journey to see the God that gave it to her. Lessons abound along the way, with the most important being that Jesus was the best gift God ever gave.
1) The Crippled Lamb
By Max Lucado
This one makes me cry every single time. My children have come to expect it so it doesn't weird them out too much. While they may not turn into the same blubbering mess that I do, they are equally touched by the story of Joshua, the crippled lamb. Because of his disability, Joshua believes he does not have as much value as the other lambs. His friend, Abigail, does her best to reassure him that he is unique and special, but Joshua cannot see that in himself. It is only through Jesus that he learns that we all have an important role to play. The illustrations are as breathtaking as the story in this sure-to-be holiday favorite. Get your tissues ready and warn your kids.
Final Thoughts: This is just the beginning of a lifetime of Christmas's for my little boy. His eyes grow wide as he takes in all the new sites and sounds that the season brings. I hope he loves this time of year as much as I do. I hope he loves baking tree-shaped cookies and decorating the tree. That he dances to the holiday music, and picks out sweet gifts for his sister. That he always believes in the magic of Christmas, but never forgets that it started with a baby king. I believe the books on this list will help to awaken that knowledge and nurture it for years to come.
It is my Christmas wish that you would fall in love with some of them too. Happy Reading and Merry Christmas.
Resources- Youtube, photo credit: kevin dooley via photopin cc