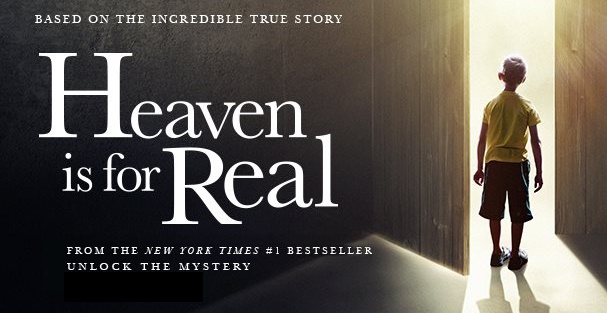 I recently watched the movie Heaven Is For Real, which was released to video on July 22nd. It is based on the book of the same title. Four-year-old Colton Burpo becomes extremely ill and has to undergo surgery. Things were looking grim, but Colton pulled through. In the weeks and months after he came home, he began talking about what he saw in Heaven. At first, his parents thought he just had a vivid imagination, based on what the experts said. Soon, Colton began talking about his great grandfather and other people and events that happened that occurred before he was born!
You'll have to watch the movie to learn exactly what happens, but here are my top seven reasons why Heaven Is For Real should be the next movie you watch.
Check out the Blu-ray Combo Pack
Reason #7
This movie has created a movement of curiosity over what really happened with Colton and many people who have never thought about Heaven are starting to question if it truly DOES exist. Although people have varying beliefs and are at different points in their journey of faith, discussing is the first step to bridging this gap. I think the conversations about Heaven, God and His power that have come from watching the movie are positive.
Reason #6
The story shows how Colton's parents come together through their different ideas and beliefs of what happened with Colton. Too many parents and couples fight when they disagree about what is happening with their kids. It's easy to let worry, stress and wonder over if something is wrong with your child cloud putting your trust and faith in God to take care of you. The Burpo's health insurance couldn't cover all the expenses and the mounting medical bills were enough to tip most people over the edge, but they kept moving forward.
Reason #5
If you have ever struggled to stand up for your faith, Heaven Is For Real will inspire you! Your faith may be tested by non-believers at times, but your faith will also be tested by Christians. In the movie, Colton's father is a preacher and has to stand up to his church, regardless of whether they will stand behind him. One of the hardest parts of being challenged by other Christians can be to continue treating those around you with love and pushing ahead to allow God to use the situation to grow your faith.
Reason #4
Colton's innocence is precious. Children are honest and seeing this through the eyes of a four-year-old is heartwarming and will renew your faith. Many adults just right off what children see and hear, as Colton's parents did at first. It's important to pay attention to what little hearts are trying to tell us as God has some important lessons and messages for us.
Reason #3
Heaven Is For Real draws your attention to the fact that God is a mysterious God and with as much logic as we have – we still can't explain everything that happens in life. This is not the first account of someone with a near death experience recounting visions of what they saw. It's important to discuss these and focus on glorifying God through them.
Reason #2
There are mixed reviews of Heaven Is For Real and this points to the fact that people believe different things about what Heaven is like. These differences need to be discussed and studied based on what is written in the Bible. The movie draws some of this out and portrays how differences can bring people together.
Reason #1
Heaven Is For Real shows one way of how God is able to reach us. God can use people at all stages of their live, whether they are children, teenagers, parents or elderly. The movie shows how one event in a little boy's life ends up bringing together and strengthening a family and church.
Heaven Is For Real stars Greg Kinnear as Todd Burpo, Kelly Reilly as Sonja Burpo, Thomas Haden Church as Jay Wilkins, Conner Corum as Colton Burpo and Lane Styles as Cassie Burpo. It is based on the accounts of four-year-old Colton Burpo from a tiny town in Nebraska. There are areas I feel the movie and storyline could be improved, but I give credit to those involved in bringing the project to life. Think of the challenges of choosing the right audience to write the movie script for, how "religious" the movie should be, the length of the story and trying to include every detail without bogging the audience down.
Besides the original book, Heaven It For Real, you can check out Heaven is for Real Movie Edition, Heaven Changes Everything, Heaven is for Real for Kids and Heaven is for Real for Little Ones. I highly encourage you to see Heaven Is For Real!
Article by Elise Cleary
I am a Christian writer and editor that lives in northern Michigan and thoroughly enjoy music, movies, TV shows, books and other entertainment with a Christian focus. My favorite song is "Oceans" by Hillsong United because it reminds me that has big plans for me and everyone else who puts their trust in Him. There are many movies that have impacted my life, but a few include God's Not Dead, The Shunning and Letters to God. I also write for www.faithandentertainment.com and love connecting with readers, so please don't hesitate to contact me! When I'm not writing I enjoy watching movies and laughing with my busy toddler and husband.