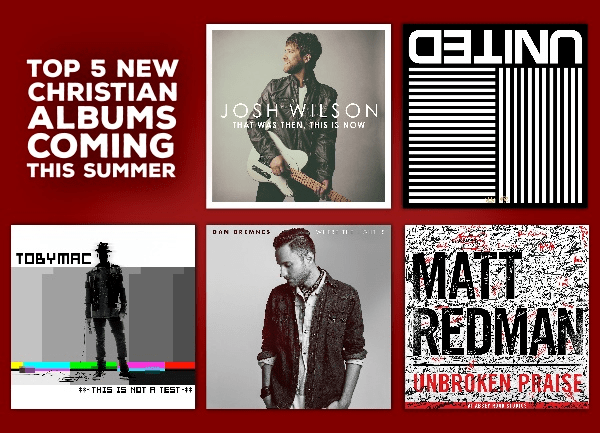 What's better than play dates in the sun, freshly squeezed lemonade and dinner from the grill? New music from your favorite artists, that's what! There are many Christian albums that have recently released or are set to release, which also means new songs at the many summer music festivals happening throughout the country. There are five in particular that you NEED to check out, not just because I highly recommend them, but also because you will be blessed in many ways by each of these albums. Let go of mistakes from last summer with Josh Wilson's album That Was Then, This Is Now. Praise God while listening to Matt Redman's album Unbroken Praise. Discover how to live an honest life surrendering to God with Empires by Hillsong United. Remind your soul of the hope you have in Christ with Dan Bremnes' new album Where The Light Is. Finally, learn to live your life to the fullest for Christ each and every day with TobyMac's brand new studio album This Is Not A Test (and it's not a bad idea to have a dance party with this album, too!).
Here are more details on what to expect from the top five new Christian albums to watch for this summer!
5. That Was Then, This Is Now by Josh Wilson
Josh Wilson's new album That Was Then, This Is Now will be coming out July 31st. The song "That Was Then, This Is Now" carries a fun beat for summer and a powerful message about how your past is behind you and you can live in the present – unashamed. Josh has been in the Christian music scene since releasing his first album Dragonfly independently in 2004. Listen to the new single on Spotify. For more information and updates on Josh's new album, follow him on Facebook and Twitter.
4. Unbroken Praise by Matt Redman
Matt Redman's newest album Unbroken Praise is set to release June 16. It's a worship album that was recorded live at Abbey Road in the UK. The album helps us fix our eyes on Jesus, through songs like "It Is Well With My Soul", "Unbroken Praise", "King Of My Soul", "No One Like Our God" and "Majesty Of The Most High." This album also features "The Awesome God You Are," which was featured on the newest Passion Conferences album! Keep up to date on the release of the new Matt Redman album by following him on Facebook and Twitter. Unbroken Praise is available for pre-order now on iTunes HERE.
3. Empires by Hillsong United
I first heard about the new album from Hillsong United a few weeks ago, and was pleased to hear it was releasing on May 26! It includes songs like "Heart Like Heaven", "Touch the Sky" and "Prince of Peace", which have already been released as instant downloads when you pre-order on iTunes. Based on these songs, it's clear that I may have a new favorite song that delivers honesty and transparency, just like the massive song "Oceans (Where Feet May Fail)". Listen to "Heart Like Heaven" on Spotify. For exciting song previews and videos before Empires releases, follow Hillsong United on Facebook and Twitter.
2. Where The Light Is by Dan Bremnes
A new favorite artist is Dan Bremnes, whose songs "Where The Light Is" and "Beautiful" can be heard on your local Christian radio stations. Dan's voice is so rich and strong, and his songs deliver a reminder of how you can find hope when you surrender to God. Dan recently released his 6-song Where The Light Is EP, and five of those songs will also appear on his album of the same title. The full album will release June 9th. Check out the current EP - you won't be disappointed! Listen to the full EP on Spotify. Keep up to date with Dan and his new album by following his Facebook and Twitter accounts.
1. This Is Not A Test by TobyMac
The long-awaited new album from TobyMac will officially be here this summer! TobyMac's newest album, This Is Not A Test, is set to release August 7 and he will be touring around the country with Colton Dixon and Britt Nicole on the This Is Not A Test Tour this fall! Only one song from the album has been released so far, "Beyond Me," but it is already blowing up the radio charts and getting fans all over the world dancing. TobyMac's last album, Eye On It, was a huge success and has already been RIAA® Certified Gold! Listen to "Beyond Me" on Spotify, and follow TobyMac's Facebook and Twitter accounts for exciting updates about the new album!
Now that you have made a fresh pitcher of lemonade, took a nap in the sun and enjoyed a scrumptious burger on the grill, keep an eye out here at HearItFirst.com for more details to be released about all these albums and follow the artists on Facebook and Twitter for personal updates from them!
What other albums are you anticipating to be released this summer? Comment below or on our Facebook page!
Article by Elise Cleary
I am a Christian writer and editor that lives in northern Michigan and thoroughly enjoy music, movies, TV shows, books and other entertainment with a Christian focus. My favorite song is "Oceans" by Hillsong United because it reminds me that has big plans for me and everyone else who puts their trust in Him. There are many movies that have impacted my life, but a few include God's Not Dead, The Shunning and Letters to God. When I'm not writing I enjoy watching movies and laughing with my busy toddler and husband.