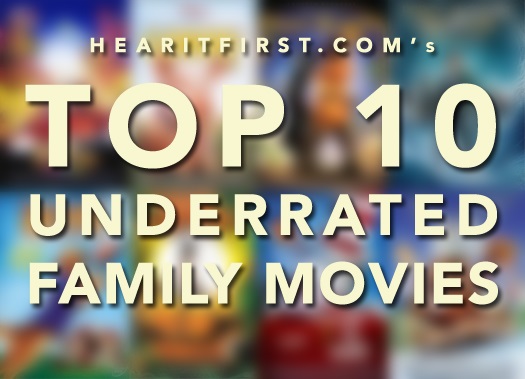 Families love a good movie night and there are many great flicks that don't receive high accolades or have been forgotten because they are from the 90's. Here are the top ten underrated family movies. Enjoy watching your favorite stars in their early acting days (including Dakota Fanning).
10. Gordy
Rewind the clock to 1995 and Gordy (produced by Disney) the talking pig proves that pigs matter and can make a difference! His family is destined to go to the slaughterhouse and his creativeness leads to a solution. Gordy finds fame and fortune along the way as he connects with kids on his journey.
9. The Second Jungle Book: Mowgli & Baloo
Mowgli is a pre-teen and abducted and taken to the human world in The Second Jungle Book: Mowgli & Baloo (produced by MDP Worldwide and TriStar Pictures). Harrison is a scout for the P.T. Barnum Circus and wants to make money off of this jungle fascination, so he hires grandee Buldeo to assist in finding Mowgli. Buldeo realizes that Mowgli is his nephew and the sole heir to his brother's estate.
8. Dr. Seuss' The Cat in the Hat
Conrad (played by Spencer Breslin) and Sally (played by Dakota Fanning) are stuck inside on a rainy day with a babysitter while their mother is at work in Dr. Seuss' The Cat in the Hat (produced by Universal Pictures, DreamWorks SKG and Imagine Entertainment). The Cat (played by Mike Myers) in the hat and Thing One and Thing Two pay them a visit. Sally likes things to be in order, but the house is turned upside down because of all the mischief!
7. Yogi Bear
In Yogi Bear (produced by Warner Bros., Sunswept Entertainment and De Line Pictures), Boo-Boo (voiced by Justin Timberlake) and Yogi Bear (voiced by Dan Aykroyd) face a problem of Jellystone Park possibly closing down and that would mean losing their home. As the 100th anniversary of the park approaches, the bear duo teams up with Ranger Smith to save the park while paying for Yogi's antics.
6. The Flintstones in Viva Rock Vegas
Before Fred and Wilma Flintstone were married he had to work hard to win her heart in The Flintstones in Viva Rock Vegas (produced by Universal Pictures, Amblin Entertainment and Hanna-Barbera Productions). Fred and Barney were bachelors and went on a trip to Rock Vegas with Wilma and Betty. The guys could bust some moves in their younger years, but their trip didn't exactly go as planned.
5. The King and I
The King of Siam needed a schoolteacher for his many children and Anna left her comfortable Western home to accept the role in The King and I (produced by Morgan Creek Productions, Rankin/Bass Productions, Nest Family Entertainment and Rich Animation Studios and distributed by Warner Bros.). She experienced culture shock and as a strong woman with a mind of her own, she often clashed with the dictator of a king. The hardship opens the king's eyes to making positive changes for the kingdom.
4. Puss in Boots
Puss (voice of Antonio Banderas) is a feisty rebel cat on a mission to find the treasure of an ancient legend in Puss in Boots (produced by DreamWorks Animation). He meets up with his long-time pal Humpty Dumpty (voice of Zach Galifianakis) and Kitty Softpaws (voice of Salma Hayek) and together they work to steal magic beans from outlaws Jack and Jill.
3. Air Bud: Golden Receiver
Several films are now in the air bud series that began in 1997. Buddy returns in the second movie Air Bud: Golden Receiver (produced by Disney) to put his athletic skills to test on the football field. His owner, Josh, joins the football team and brings Buddy with him.
2. Percy Jackson & the Olympians: The Lightning Thief
An ordinary teen, Percy Jackson (played by Logan Lerman), learns in Percy Jackson & the Olympians: The Lightning Thief (produced by Fox 2000 Pictures) that he is actually half Greek god and half human and he is accused a stealing the lightning. Percy has to quickly learn the ropes of his powers and discover what actually happened to the lightning in order to restore it and save his life.
1. Ice Age: Continental Drift
The Ice Age movie series continues to grow with the next one due in 2016. Ice Age Continental Drift (produced by Blue Sky Studios and released by 20th Century Fox) is the fourth in the series and it includes new characters, storyline and favorite voices Joy Behar, Ray Romano, Denis Leary, John Leguizamo and many others. Sid, Manny and Diego are forced into another adventure after the continent divides and they are unprepared to meet the pirates they encounter!
There are many great family-friendly movies that don't receive a full 10 stars for one reason or another. What are some of your favorites?
Article by Elise Cleary
I am a Christian writer and editor that lives in northern Michigan and thoroughly enjoy music, movies, TV shows, books and other entertainment with a Christian focus. My favorite song is "Oceans" by Hillsong United because it reminds me that has big plans for me and everyone else who puts their trust in Him. There are many movies that have impacted my life, but a few include God's Not Dead, The Shunning and Letters to God. I also write for www.faithandentertainment.com and love connecting with readers, so please don't hesitate to contact me! When I'm not writing I enjoy watching movies and laughing with my busy toddler and husband.