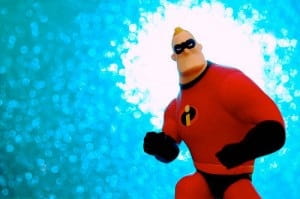 There are many secular movies that have been made with really good underlying Christian themes and morals. Hollywood is realizing the importance of this now more than ever. Here is a list of my top 10 secular movies with a Christian theme. Please note that this list is put together not necessarily with which movie was better, but the message that it presents. I'm focusing on the themes in the movies and not the movies themselves.
"The Truth" Psalm 42:8 By day the Lord commands his steadfast love, and at night his song is with me, a prayer to the God of my life.
10. Bruce Almighty
There are mixed feelings by many on this movie as it does include sexual references, alcohol and other things, but the good outweighs the bad hands down! This movie is full of hilarious scenes and good solid content. One scene involves Bruce asking God for a sign when he is driving behind a truck that has many signs on it that he should be following. This shows the importance of paying attention and searching for God's will in your life. The most important lesson that I gained from this movie is that we all need to learn to love others by seeing them through God's eyes and not our own. This movie has an underlying theme of God saying "I Am and you are not. Learn to trust in Me and Me alone." I recommend this movie for ages 12+.
9. To Kill A Mockingbird
"To Kill A Mockingbird" is a classic novel that was turned into an awesome movie! This movie shows the importance of families sticking together through the good and the bad. Sometimes when bad things happen we all can get negative and disband from one another. This movie shows the value of staying tight as family unit. It shows the reality of racial tensions from decades ago and how Atticus Finch rises above them to defend a man of opposite color. It is a morally sound movie worth watching. This movie is great for ages 12+.
8. The Incredibles
This movie is all about the family working together to accomplish a common goal, granted the goal in this movie is saving the world. I doubt any of us will be doing that soon. Haha! However, you can teach your children the values of working together to make good things happen. This movie is full of adventure and humor! You will laugh and feel the importance of being a family as you watch this one. This movie is for all ages!
7. Schindler's List
This movie is for mature audiences only, 18 years and older. There are some graphic scenes that should not be witnessed by children. However, there is a huge Christian element to this movie. Oskar Schindler, a German businessman, risks his own life and money to rescue Jewish people from the Nazi regime. Jesus said, "Greater love has no one than this, that someone lay down his life for his friends." (John 15:13) Oskar Schindler is a great example to us all of how Christians should act.
6. The Lorax
The lesson learned from this movie is extremely important. When you focus on what you want and disregard others, your greed will eventually overtake you and cause devastation. You will lose friendships and can even put others in difficult circumstances (financially, emotionally ect…). However, it takes only one person to make a difference, even in the darkest places. As Ted seeks out to find a real tree for a girl he wants to impress, he encounters many obstacles as Mr. O'Hare does everything possible to stop him. A land once full of beautiful trees is destroyed and Ted rises to the challenge to plant one little seed and regrow the forest of Truffula trees once again. This movie is great for all ages!
5. The Blindside
This movie is based on a true story of Michael Oher, who was the number 1 draft pick to the Baltimore Ravens back in the 2009 draft. This movie mends the broken chasm of racial tension that plagues us. Michael came from a very dark place. He was left homeless because of his family's addictions. The Touhy family takes him in and helps him finish school and watches him attain his dream of becoming an NFL player. In turn, Michael also helps the Touhy family look within themselves to help make a difference in the world. You see two different races bonding together and sticking together through the thick and the thin as others look at them with disgust. This movie teaches the values of loving others no matter who they are or where they come from. This movie would be perfect for a high school youth group. No matter if you watch this with your kids or a youth group, take the time to talk about loving others when it is over. This movie isn't for the little kids. I recommend it for anyone 12+.
4. Star Wars
Ah yes, Star Wars! The first trilogy released is fantastic cinematically and the Christian themes presented are very appealing. The war rages on between the forces of good and evil. Luke is constantly tested to turn to the dark side of the force, much like Jesus was tempted in the wilderness. Of course, Luke stays strong in the midst of chaos and helps the rebellion overtake the Emperor and his empire. The basic concept is that we all have a choice in life. You have to choose whether you are going to do what is right or what is wrong. You have to choose to fight for the good in life or aide in the destruction of life through bad decisions. These movies are great for all ages!
3. Chronicles Of Narnia: The Lion, The Witch, And The Wardrobe
This movie is the start of many the follows the lives of 4 children into the land of Narnia. This story in particular is filled with Christian themes. Aslan the lion is symbolic for Christ. Jadis, the wicked witch, is symbolic for Satan. This movie portrays the resurrection of Christ and the downfall of Satan. It is a wonderful movie for all ages!
2. Amazing Grace: The Story Of William Wilberforce
This movie shows what one person can do when they dedicate themselves for a cause. Slavery ravished England during its reign as the "Great Empire". William takes on one of the most revolutionary tasks ever by standing strong in his faith and values and pushing for the abolition of slavery. He becomes the voice of truth for the group of people pushing the cause of abolition. He seeks advice from John Newton, who was a slave trader and is now reformed. The title of the movie, of course, comes from John's song "Amazing Grace". The moral of this movie is fight for what is right, no matter how hard the task is or how much opposition you face. Jesus did what was right all the way to the cross! I recommend this movie for ages 12+.
1. Lord Of The Rings
This will always be my favorite secular movie with Christian themes. The ring in this trilogy represents sin. As Frodo and Sam journey to destroy the ring, we watch the effects of what the ring can do. The longer someone holds onto the ring, the more they want to keep it and not destroy it. Unfortunately, that is how sin is. The more we dabble in sin, the easier it is to keep doing it. We all have to make the choice to throw out our "rings". We need to consciously decide daily to not sin. The longer you stay in sin, the more it will overtake you just as the ring did in this trilogy. Sin, like the ring, is very enticing, but its effects are always devastating. If you have not watched these movies yet, please do! I recommend these for ages 12+.
Check out another F&E Movie list counting down the best movies that teach us about life.  Movies With Life Lessons:  40 Great Films to Watch
Conclusion
I hope you have enjoyed this list of my top 10 secular movies with Christian themes. Please feel free to comment below on what some of your favorites are. God bless you!
Resources- ESV Holy Bible, Youtube.com,photo credit: JD Hancock via photopin cc