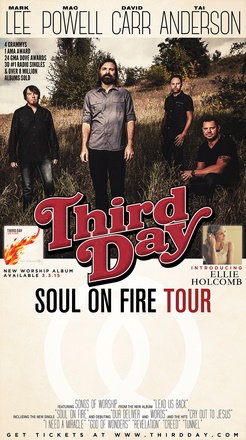 Four-time GRAMMY® Award-winning band THIRD DAY will hit the road this spring to headline the SOUL ON FIRE TOUR, coinciding with the March 3 release of the band's new worship album, LEAD US BACK. The 20+ city spring leg kicks off March 5, in Boston following an album launch party at New York City's famed Beacon Theater on March 3, and will then move on to major U.S. markets such as Philadelphia, Tulsa, Dallas, Grand Rapids and more, before wrapping up on April 26 in Augusta, Maine. The SOUL ON FIRE TOUR will introduce Dove Award Winning New Artist of the Year Ellie Holcomb on most dates, while Grammy nominated Australian favorite Peter Furler will be a special guest on other select dates. THIRD DAY will continue the tour across Canada before moving into some special summer shows, and then complete their U.S. touring in the fall of 2015.
The SOUL ON FIRE TOUR takes its name from one of the first singles on THIRD DAY's brand new worship project, LEAD US BACK, the band's first worship recording in more than a decade. The group's two previous worship albums, OFFERINGS – A Worship Album in 2000 and OFFERINGS II – All I Have to Give in 2003, have been the two biggest selling albums of THIRD DAY's career to date.
"LEAD US BACK is a call to worship, not just for our audience but for the band as well," says bassist Tai Anderson. "Why now? We're ready for these songs. We're ready to feel God's spirit fall afresh on all of us again. We have a twofold hope in sharing them. First, that this music will help lead us as a group back to our original fire and desire to worship and second, that it will do the same for our fans who are on the spiritual journey as well."
A special VIP package will be available for SOUL ON FIRE TOUR ticket buyers, including a premium-seat concert ticket and an after-show VIP experience with THIRD DAY. For the most up-to-date ticketing information, please visit www.ThirdDay.com.
THIRD DAY – SOUL ON FIRE TOUR – Spring 2015
March 3 – New York, NY | Beacon Theatre
March 5 – Boston, MA | Colonial Theatre
March 6 – Philadelphia, PA | Merriam Theatre
March 7 – Akron, OH | Akron Civic Center
March 12 – Cordova, TN | Hope Church
March 13 – Tulsa, OK | Cox Business Center
March 14 – Amarillo, TX | Amarillo Civic Center
March 15 – Grand Prairie, TX | Verizon Theatre at Grand Prairie
March 19 – North Charleston, SC | North Charleston Performing Arts Center
March 20 – Knoxville, TN | Knoxville Civic Auditorium
March 21 – Grove City, OH | Grove City Church of the Nazarene
March 22 – Grand Rapids, MI | DeVos Hall
March 26 – St. Augustine, FL | TBA
March 27 – Orlando, FL | TBA
March 28 – Tallahassee, FL | TBA
March 29 – West Palm Beach, FL | TBA
April 16 – Chattanooga, TN | TBA
April 17 – Charlotte, NC | TBA
April 26 – Augusta, ME | Augusta Civic Center
* Additional dates to be added. Dates, markets and venues subject to change without notice.