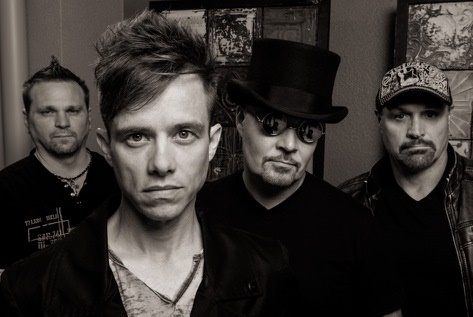 The Jason Eaton Band from Flint, Michigan was formed four years ago and maintained the name of the lead singer from his solo career. After Mark, Doc and Jeff joined with Jason Eaton, they quickly began taking the stage with many of the top Christian artists today, including Jeremy Camp, Big Daddy Weave, Newsboys, Aaron Shust, Thousand Foot Krutch, Bluetree, Building 429, Sanctus Real, Peter Furler and Crowder. Last year, their song "Satellites" rose to the top of the charts. A few months ago the Band announced that it was time to change their name and they invited fans to submit names that represented their identity now. Narrowing down to the top 10, fans voted for the top three and the band chose the one that has now become much more than just a name. This past weekend I went to the Big Ticket Festival in Gaylord, Michigan and caught up with the then Jason Eaton Band to learn how they chose the name 6th Day Made.
What lead to the changing the name?
Jason: "Initially, I started traveling as a solo artist back in 2009 and band members started coming in. It's much more than any one person so we wanted a name that better reflected our ministry and what we were about."
What are some of the names that fans submitted?
Jason: "They narrowed it down to Love Is King, 6th Day Made, and Etched. When we saw it the Holy Spirit moved all the confusion out of the way. I think it was an appointed name and we are recognizing the Holy Spirit's appointment."
How was the name chosen for you?
Mark: "As a band when we rehearse we spend a half hour or more in devotion. We were in the book of Genesis and we were reading about the construction of the Tower of Babel. The first eight verses are man constructing something, but the next eight or nine verses is God deconstructing what they had done. One of the things they had said was "We will make a great name for ourselves." But then in the next chapter the Lord said to His seed, "I will make a name great." So when this name was suggested it all stood out to us. Then we recognized that we didn't choose it – it was selected for us. Proverbs 22 says, "A good name is to be chosen than great riches." It was awesome to see God choose the name for us."
Do your families go with you to some of the shows?
Jason: "Yes, a lot of our family is here."

Mark: "We're blessed to have a strong family support. Without that we wouldn't be able to do this."

Jason: "They are the other part of the team. If they weren't all on board this wouldn't work."
What's coming up this year with new music this year?
Jason: "We just released our new single "The Story of Love". That's going to all the radio stations in the U.S. and internationally. That proceeds an EP we are finishing and a DVD with an accompanying audio CD."
What is The Story of Love About?
Mark: "We have a song "The Story of Love." When we read about Jesus on the cross we picture it in our minds. No greater love hath any man that a man lay down their life for his friends. That is the story of love. We're excited about that and we have a song called "Who Am I" and it's simply Jesus asking the question and possibly the most important question to anyone is "Who am I to you?" "The Day of the Year" is about 2 Corinthians 6:2 "Now is the acceptable time. Today is the day of our salvation."
Why do you choose to come to Big Ticket?
Jason: "We have a really good relationship with Drew. He came along side us early on. We felt like entering into a beneficial relationship with him – we helped with ticket sales and he helped with exposure. This is our home base and this is where we are finding our path from. It's important to have relationships with the festivals that are here."
It's clear after sitting down with Jason, Jeff, Mark and Doc that the entire group wants nothing more than to follow where God is leading. The Big Ticket Festival was the premier appearance of 6th Day Made and they have a few shows lined up in Michigan through the summer, including at Unity Festival August 8th. Check out the new video revealing the new name here and stay updated on their newest releases by following them on Facebook and Twitter.
Article by Elise Cleary
I'm a Christian writer and editor residing in northern Michigan and thoroughly enjoy Christian centered music, movies, TV shows and books. A favorite song is "Oceans (Where Feet May Fail)" by Hillsong United and I find many songs by Matt Maher, Tim Timmons, Third Day, Laura Story, Jeremy Camp and numerous other artists uplifting. A few of my favorite Christian movies include God's Not Dead, The Shunning, Do You Believe and many by the Kendrick brothers. When I'm not writing, I enjoy running, experimenting in the kitchen and spending time with my musically gifted husband and spunky daughter. I am so blessed and in awe of the work God is doing throughout the Christian entertainment industry.