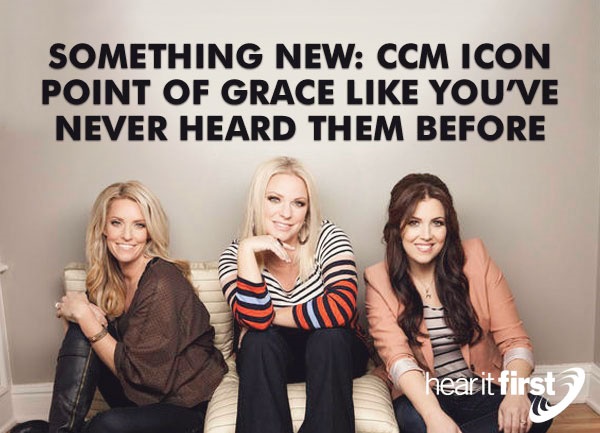 Point of Grace just released their new album Directions Home and you will need a few things to fully embrace what it's all about. Pour some sweet tea, make your grandmother's famous pie and sit in a rockin' chair on your front porch. Directions Home brings you back to the southern roots of Point of Grace and features covers you will know.
Denise Jones says, "The common denominator here is that life is good. These are fun, happy songs. This is a happy record." Although Point of Grace is primarily known as a Christian band, this album blends Christian and county. It even features two well-known country legends and will take you back to happy country roads. I was seven when they first debuted in 1993 and grew up on their music. They have released nine studio albums, four holiday albums, four complication albums and one remix album. Directions Home happens to be their first cover album and after hearing a few of the songs I really hope it's not their last!
Album Highlights
"Something In the Water" was released as a single and has already captured a large fan base. It's a cover of Carrie Underwood's version and is similar in style. It really highlights their country roots and voices. I love the message in this song and the blend of their voices coming together for the chorus.
"Directions Home" features Vince Gill and brings a strong country feel. This song lays out the simple and meaningful things in life. It describes what a good life means and reminds me that the things we take for granted, like food on the table, are huge blessings.
"Friend of a Wounded Heart" brings simple truths of Christ to light about how Jesus is a friend of a wounded heart and a healer. They sing such a sweet and loving version of this profound message. Cut a nice big piece of gooey Mississippi mud cake.
The album would not be complete without "Lord, I Need You". Their voices blend sweetly in this country Christian favorite. Seriously, where is the peach pie with this album release?
Again, their voices blending together for "Home" is the sweetest version of this song I have heard. Love it and I think strawberry pie is a great pairing for "Home".
"You're Gunna Miss This" will bring you to tears if you have children and need a good reminder of how quickly time flies. Take some time for apple pie topped with vanilla ice as you hug your daughter and enjoy some laughs.
"Two Roads" features 14-time GRAMMY winner Ricky Skaggs. They performed the song together in March at the Grand Ole Opry. Their voices blend together during the chorus and Shelley Breen, Denise Jones and Leigh Cappillino take turns singing. It's a fun song full of truth and shows the edgier side of their voices.
"The Climb" is a cover of Miley Cyrus' song, which was originally released in 2010. I was surprised to see this song on the album, but it has a great message and I love hearing other versions – especially one with country flare accompanied by a piano.
Country Christian Mix
Top hits from Point of Grace include How You Live (Turn Up the Music) from the album How You Live, "There Is Nothing Greater Than Grace" from the album No Changin' Us and "King of the World" also from the album How You Live. Each song comes through covered in love and sweetness, as country music usually delivers. They also have many songs that carry a more contemporary Christian tune, including "Jesus Will Still Be There" from the album The Iconic Artists of Inspirational Music and "Heal the Wound" from the album How You Live. Directions Home is more country, but it includes many Christian messages. Vince Gill is a well-known country artist, but sings many songs that I would consider to be Christian. Check out "Go Rest High On That Mountain" and his duet of "How Great Thou Art" with Carrie underwood.
First Co-Produced Album
Directions Home is also the first album Point of Grace has co-produced. Kentucky Thunder's Andy Leftwich, which is the band that performs alongside Ricky Skaggs helped co-produce the album. Andy is one of the youngest members of Kentucky Thunder, but is extremely talented. If you are craving music "soul food", Directions Home has it. A great blend of sweet, real, country, honest, wholesome and soul reaching sounds.
You can order the album now on iTunes and checkout the album teaser on YouTube.
Article by Elise Cleary
I am a Christian writer and editor that lives in northern Michigan and thoroughly enjoy music, movies, TV shows, books and other entertainment with a Christian focus. My favorite song is "Oceans" by Hillsong United because it reminds me that has big plans for me and everyone else who puts their trust in Him. There are many movies that have impacted my life, but a few include God's Not Dead, The Shunning and Letters to God. When I'm not writing I enjoy watching movies and laughing with my busy toddler and husband.