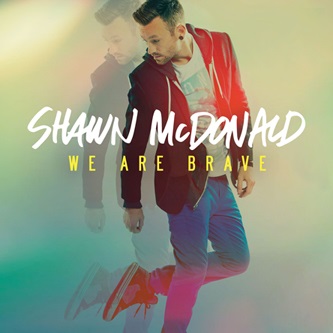 Capitol Christian Music Group is proud to announce that singer, songwriter and artist Shawn McDonald has just received his first No. 1 radio hit with "We Are Brave." As the first single from his brand new album, titled Brave, "We Are Brave" has officially hit the top spot on the Christian Hot AC chart.
"I'm so incredibly grateful that this song as well as the album have been received so well. I certainly didn't expect this and honestly, the news really hasn't sunk in yet!" McDonald exclaims. "The reality is, I'm super excited that my music is getting out there. I've been at this for so long and even though I've hit walls throughout my career, I'm just trying to make music that's relevant to the listener and music that I believe in. A lot of work and prayer went into this record, and to see it connect with people is really awesome, overwhelming and well, pretty emotional."
Brave is McDonald's latest collection of new songs in three years. Released on April 15, this album pushed this singer and songwriter beyond his comfort zone. Brave can not only boast its first radio single hitting the top of the charts, but it can also tout numerous media accolades and reviews, sharing that McDonald is a "rare talent" and the album as "richer and more complex with every repeated listen... raw and authentic... a game-changing release in McDonald's seasoned career."
The music video for "We Are Brave" is below, as is his most updated tour schedule. For more information, please visit shawnmcdonaldmusic.com.
Shawn McDonald on tour:*
May 09 - Lafayette, IN - Sacred Grounds Reclaimed (sold out show)
May 10 - Elkhart, IN - Servants Heart Community Church
May 23 - Nashville, TN - Rocketown
May 24 - Rocky Mount, VA - Harvester Performance Center
July 27 - Grand Haven, MI - Worship At The Waterfront
Aug 08 - Midland, TX - Rock The Desert Festival
Aug 23 - Fort Smith, AR - Rock the River Festival
*dates are subject to change; please check ShawnMcDonaldmusic.com for the most updated information