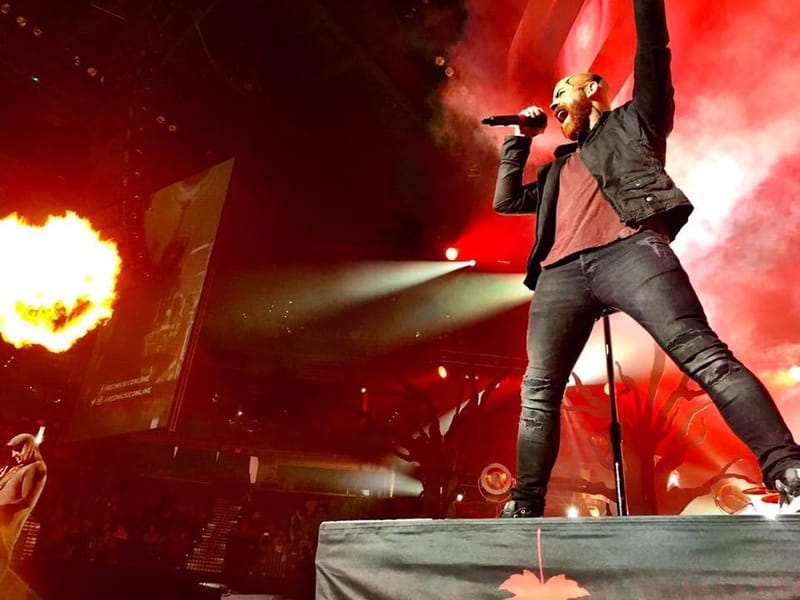 Slated as one of the greatest Christian rock bands of our decade, RED, has teamed up their newest album, of Beauty and Rage with their graphic novel, The Ever, for their curent LIVE show during the 2016 Winter Jam Tour Spectacular. Read on as the band members, Michael Barnes, Anthony Armstrong, and Randy Armstrong, answered some questions during a recent interview about the new album, their graphic novel and the decision for the unique pairing.

When asked about their first thoughts of The Ever being turned into a live show they said it happened in a very normal conversation. They are always thinking of ways to do something different or how to do things in a more theatrical fashion. They expressed that these "normal" conversations happen daily. With songs like Darkest Place, Gravity Lies and Part That's Holding On, RED aims for the show to not only entertain with brilliant theatrics but also to connect to the souls of their fans. The band thrives on offering an unexpected delivery that brings hope and beauty to the all too common story of suffering.
RED, clearly a "think outside the box" type of band, was inspired to combine their album with the graphic novel based on the unique elements it would offer to the show. "Have you ever seen a band with its own graphic novel? We have always wanted to set trends instead of emulating them. RED fans have come to expect something different and special and we aim to please. The Ever is a short story we wrote with our producer and is also a track on our new album of Beauty and Rage. We broke down the story from its original form and wanted to present it to fans in a cool and unexpected way."
They had this to say about the book's main character and album cover, The Plague. "The Plague" is not the actual name/term for the figure on the cover of our album. They were known as "Plague Doctors". During the dark ages (14th-15th centuries) and the Black Plague, individuals were chosen to help cure the Black Death. They wore beak like masks of all different kinds and filled them with rose pedals and other sweet smelling spices to mask the smell of death. The cloaks they wore were to protect their skin and they carried a staff to keep sick individuals at a distance while examining them. Many also believed the plague was a punishment and asked to be whipped free of their sins. Ultimately these chosen individuals were seen as a sign of hope.

RED band members discussed how many hours of planning and execution goes into crafting the live show. Sets are built by hand and from scratch and need to be sturdy and road worthy. They need to "make sense for what kind of tour we are going to be on." They chose Winter Jam for the sheer element of going big. True to their trend-setting ways, they said, "Why not pull out all the bells and whistles for one of the largest tours in the world. There is a mass of positive influence by every act during each event and we have our own unique way of being a part of that."

When asked what elements of the live show they are most excited about, they stated that seeing the novel brought to life and how the Winter Jam fans have responded is very gratifying. "We are excited to see the look on people's faces when they see/realize what is going on at first glance". They also mentioned that they quite enjoyed being known for the "intense heat coming from the stage as provided by the 4, 30ft pillars of flame and pyro technics that ensue" each time they hit the stage.

RED band members agreed that they are pleased with the impact their show is having. "Every night 1000's of stories (aka human beings) walk through the doors of the arena. So many are there for a spiritual experience. Others may be there for a good time. Some may just be tagging along. Whatever the case may be, every night hundreds and hundreds of people are walking out different then when they came in. It's a thrill to see God move through music and teaching."
RED has received six GMA Dove Awards, two Top 10 active rock singles and much more. Check out their new album, of Beauty and Rage and visit the Winter Jam Tour website to see if they'll be coming to a city near you.
Article by Andrea Stunz
I'm a born-and-raised Texan who enjoys any adventure that requires a passport. As a Christ-following pilgrim, I'm a lover of stories and a connoisseur of sunrises and coffee - best when served together. I listen to a wide range of musicians with Andrew Peterson, Jimmy Needham and Bethel Music being just a few of my favorites. When I'm not writing, you'll find me in the kitchen or spending time with those I love.