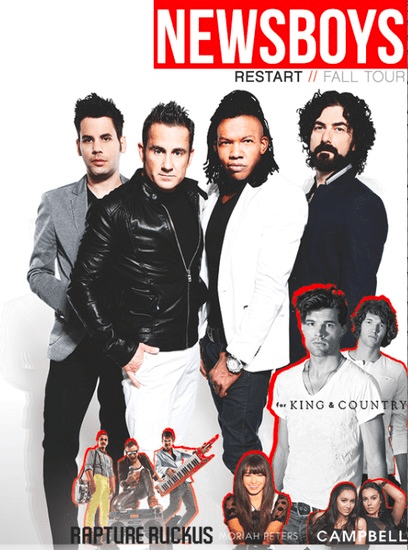 This fall, the multi-platinum selling band and steady touring act Newsboys will continue to share the message of how to 'change the world' with their highly anticipated Restart Tour. Hitting 20+ dates across the U.S., this four-time GRAMMY-nominated and chart-topping group will kick off their anticipated tour on September 20 and run through October 27. Newsboys will be promoting their brand new upcoming studio project, Restart, which is slated to release September 10 with Sparrow Records.
Over the course of their previous sellout tours, Newsboys have impacted thousands of lives, both locally and internationally, making a Newsboys show one of the most in-demand nights of worship, praise and celebration. As they ready for their fall tour, concertgoers can anticipate hearing brand new songs from Restart, such as their newest hit single that is climbing up the charts, "Live With Abandon," as well as "Restart" and "That's How You Change The World," the first song found on their new album. Fans will also get to hear many of the band's biggest No. 1 hits, such as "Your Love Never Fails," "God's Not Dead," "Born Again," and much, much more.
Sponsoring Newsboys' touring once again is Compassion International, where on their previous sold out God's Not Dead Tour, more than 10,750 children were sponsored throughout their partnership with the organization. Also adding to the tour will be opening support from popular artists such as For King & Country, Moriah Peters, and Rapture Ruckus. Tour dates are listed below, but more shows are being added daily so be sure to check their website for the most updated schedule!
Newsboys Restart Tour Dates*:
September
20 - Barre, VT
21 - Shippensburg, PA
22 - New Brunswick, NJ
27 - Savannah, GA
October
03 - Metairie, LA
05 - Harlingen, TX
06 - Austin, TX
10 - Columbia, MO
11 - Cincinnati, OH
12 - Cullman, AL
13 - Waukesha, WI
18 - Marion, IN
19 - Davenport, IA
20 - St. Cloud, MN
22 - Fargo, ND
24 - Green Bay, WI
25 - Mitchell, SD
26 - St. Charles, MO
27 - Springfield, OH
*tour dates subject to change