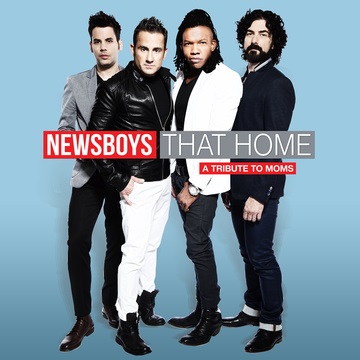 Four-time GRAMMY®-nominated band Newsboys pay homage to mothers everywhere with the release of their single "That Home (A Tribute To Moms)" in honor of Mother's Day this weekend. The new track, which was recorded originally for Newsboys' latest album Restart, features clips of fans sharing their favorite thoughts and memories about their moms. The song holds a special relevance for lead singer Michael Tait:
"'That Home' is a song about moms everywhere. My mom passed away in September of 2013," said Tait. "The lyrics talk about how in that home she would cook us our favorite meal, how her love for us had no end and how important it was to her to see her kids be saved and know Christ. That's the kind of mom that my mom was."
"That Home (A Tribute To Moms)" is available now:
iTunes: http://smarturl.it/TributeToMoms
Lyric Video:
Newsboys' inspiring message continues to echo in their current single "We Believe." The song has skyrocketed up the charts, moving into the Top 3 spot this week on the National Christian Audience chart, reaching an audience of over 8 million. Upon its release, "We Believe" gave Newsboys their strongest add week ever, picking up adds from 64 radio stations.
In addition, Newsboys performed their No. 1 mega-hit "God's Not Dead" last weekend on Huckabee on FOX News. Governor Mike Huckabee joined the band to play bass on the track that inspired the movie "God's Not Dead." The movie is currently in theaters and has grossed more than $53 million worldwide. To view Newsboys' performance on Huckabee, visit here.