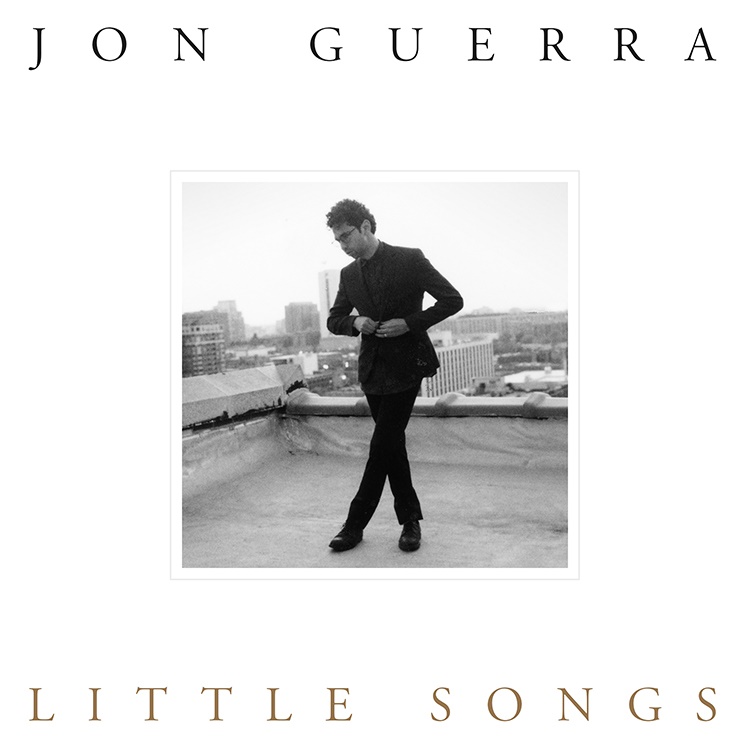 Jon Guerra is a new Christian artist coming onto the music scene with five songs already released and his debut album – called Little Songs – releasing April 21, 2015 (Check it out here: http://smarturl.it/LittleSongs). His music is edgy, new, fun, flavorful and absolutely incredible. I heard the acoustic version of "I Will Follow" and immediately wanted to hear more of his music! There is something about him that makes you want to smile, cry, rejoice and break out into dance all in the same moment. He is genuine and his lyrics are very poetic. He already has a strong following since becoming a member of the Vertical Church Band from the Harvest Bible Chapel in Chicago in 2013. He has toured and performed with many Christian artists already, including Matt Maher, MercyMe, Crowder and others. His music career in this manner is just starting with Little Songs.
Jon didn't hold anything back on the album. He stated, "The most personal songs are the most worshipful. For this record, that's just where it went," he confirms. "All of these 11 songs are my best effort at being a songwriter, at pleasing God, at giving something that I think is going to be useful to my friends and family in their journey of faith, and something that will be useful to churches on a Sunday morning as they're trying to engage with God as a faith community."
Jon thoughtfully answered some of my questions about being in the spotlight and some of the tracks on Little Songs.
Question: I gained a sense that you wondered if you could actually make it as a singer-songwriter. Has there been a moment where you just felt like God was breathing confidence into you?
"I believe that at the end of my life all the roads, turns and seeming detours will all be key fragments in the tapestry of my life. I also believe that I am where I am supposed to be. How could I not be? He led me here. I'm banking everything on that belief. While belief and confidence are intimately connected, they don't always cooperate. And that can be very helpful. Belief and a lack of confidence can drive one to very intimate times of prayer. I believe that God is a good Father and does everything for my good – but I'm not always confident of what that good is. On the one hand that is exhilarating, but it is also downright frightening."

""Making it" as a singer-songwriter has so many dimensions. I do wonder if I can make it, but only in a commercial sense, which is the least of the dimensions. As it relates to my songwriting endeavors – I'm going to bear witness to the hope that I've found in the most beautiful way I can muster. I'm confident that God will not fail me in this. But how that all relates to commerce no one can predict. Would God be any less good if my records were commercial failures? Absolutely not."
Question: "I Will Follow", you sing "When I find myself so far from home, And you lead me somewhere I don't want to go." Where has God lead you that you didn't want to go and what were some of the blessings?
"This is a classic tale in the Jon Guerra narrative. There have been several instances of God pushing through my fear (sometimes reluctance) and it being the best thing for me. The first being moving across the country when I was 12. I didn't have a choice in that, and it was a scary thing. Had I not moved however, I would have never starting playing the guitar. My word, what a gift music has been to me."

"The latest being signing a record deal. It was a frightening step to take. It meant that I was going to bring something very personal (songwriting, leading worship, serving my local body of believers) and broaden the scope. I was very reluctant and nervous about it. As it typical, I'm finding immense joy in it."
Question: "Stained Glass" is another powerful song that is creatively put together and beautiful sung. What was the inspiration behind it?
"You can't have the beauty of a stained glass window without (1) broken glass and (2) discolored glass. Broken glass and discolored glass seem useless. But when appropriated, it's arguably more beautiful than regular glass. That image was stunning to realize. Anyone who has had a real experience with Jesus knows that this is exactly what he does. He puts our broken pieces together and makes us into more than what we were before. If only every person believed this. What a world we would live in."
Question: What is one of the most important messages you hope your audience takes from your music?
"I want my audience to feel something. We hear a lot of messages, especially as it regards to our faith. Sometimes we hear it so much, it loses its power. I want my songs to be a fresh hearing of familiar things. The message is the same: we are loved infinitely."
Jon is the real deal and it's always exciting to see how God is using the talents He created in another one of His musicians. Here's a preview of some of the songs on Jon's debut album.
"I Will Follow"
The lyrics in this song are not new, but, oh man, the way Jon presents this song is captivating. I get chills each time I hear it and can't get enough of it!
Favorite Lyrics
I believe everything you say you are

I believe and I have seen your unchanging heart

In the good things and in the hardest part

I believe and I will follow you

I believe and I will follow you

When I see the wicked prospering

When I feel I have no voice to sing

Even in the want, I'll follow you

Even in the want, I'll follow you

When I find myself so far from home

And you lead me somewhere I don't want to go

Even in my death, I'll follow you

Even in my death, I'll follow you
Enough For Me
Jon sings simple words in this song, but again, they are powerful. I gather a strong sense that Jon lives out that God is enough for Him and He knows the love that God has for Him.
Favorite Lyrics
You
You
You and Your love and that's enough for me


Life is like glass
In a million little pieces that won't fit together
There must be something I missed


I could try to get by
But it isn't really livin' just to get by is it?
And I've got a reason to live

Stained Glass
The theme of this song is that we're all stained and we feel it, but God sees us as stained glass windows. It's a beautiful picture of how God views us. The way we view our stains can keep us from embracing God, but "Stained Glass" is a sweat reminder of how God wants us to view ourselves.
Favorite Lyrics
Show me what You see
When You look at me
Show me what is real
More than what I feel
We have stains, it's true
But when Your light shines through
We all look like stained glass windows
Show me what You see
When You look at me
Show me what is real
More than what I feel
We have stains, it's true
But when Your light shines through
We all look like stained glass windows to You
We all look like stained glass windows to You
We all look like stained glass windows

If Jon's music is speaking to you and you can't wait for Little Songs to be released, feel free to hit replay on his YouTube channel and listen to him on Spotify. Little Songs will be released April 21 and you can preorder today on iTunes. He also has a busy tour schedule this month with Matt Maher and MercyMe, so check out his website to see if he's coming to your city soon. Thank you Jon for following God's calling and sharing so much of yourself in each song.
Article by Elise Cleary
I am a Christian writer and editor that lives in northern Michigan and thoroughly enjoy music, movies, TV shows, books and other entertainment with a Christian focus. My favorite song is "Oceans" by Hillsong United because it reminds me that has big plans for me and everyone else who puts their trust in Him. There are many movies that have impacted my life, but a few include God's Not Dead, The Shunning and Letters to God. When I'm not writing I enjoy watching movies and laughing with my busy toddler and husband.