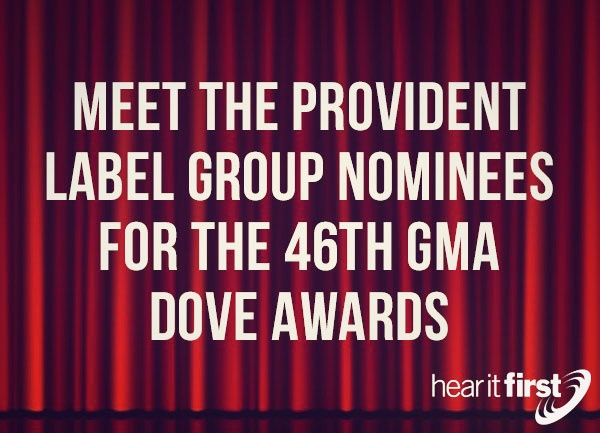 The 46th GMA Dove Awards will take place October 13 in Nashville, Tennessee and the nominees were recently announced. Provident Label Group is honored to be representing artists, albums, videos and more nominated in 11 categories. Here's your chance to see why we are excited to represent all of these Christian artists, song writers and film makers.
Christian Artist I Am They
You have heard the songs "From the Day", "We Are Yours" and "Here's My Heart", but could you guess that Christian band I Am They is made up of many worship band performers? Many in the group were on worship teams in various churches around Carson City, Nevada and they joined the Provident Label Group after winning a band competition at the Christian music festival Spirit West Coast. They experienced many firsts as a band and now they get to perform on the GMA Dove Awards as a New Artist of the Year nominee!
Christian Artist RED
The song "Darkest Part" by RED was released earlier this year and it has gained over 600,000 views on YouTube and over a million fans on Facebook. The song has become a favorite and it's not surprising that they have been nominated for Rock Song of the Year. "Darkest Part" is on the album of Beauty and Rage, which is nominated for Rock Album of the Year.
Christian Artists Lauren Daigle and Third Day
With songwriting support from Provident Label Group, Lauren Daigle also launched her first album back in April and the song "How Can It Be" has touched many with her contemporary voice and honest lyrics. Third Day is celebrating 24 years as a band and let us all know that they still have their edge with song "Soul On Fire." Both artists are celebrating with nominations as the Pop/Contemporary Song of the Year.
Song Writers Jason Ingram, David Leonard, Leslie Jordan, Matt Maher, Chris Tomlin, Gloria Gaither and Bill Gaither
Many Christian artists have become known for their worship music, including Jason Ingram, David Leonard, Leslie Jordan, Matt Maher, Chris Tomlin, Gloria Gaither and Bill Gaither. Many churches sing "Great Are You Lord" and "Because He Lives (Amen)" during worship on Sundays, but these two songs are incredible to listen to any day of the week. You will get to hear both songs at the Dove Awards as both have been nominated for Worship Song of the Year.
Christian Artist Matt Maher, Lauren Daigle and Third Day
Lauren Daigle, Matt Maher and Third Day are all up for nominations and have one category in common. "How Can It Be" by Lauren Daigle, "Saints and Sinners" by Matt Maher and "Lead Us Back: Songs of Worship" by Third Day are all nominated for Pop/Contemporary Album of the Year. Each album is a combination of soulful worship and praise to God. Who would you vote for?
Christian Artist Casting Crowns
Prayers around the world went up for Mark Hall when it was announced he had to undergo major surgery for aggressive kidney cancer this year. Mark and the entire band of Casting Crowns have praised God through this journey. They get to share this praise loudly during the Dove Awards for their nomination of Inspirational Album of the Year.
Christian Artist Rhett Walker Band
Do you know what Christian band is known for wearing cowboy hats and making country worship a mainstream thing? The Rhett Walker Band does this with hands uplifted to God. They were nominated for a GMA Dove Award in 2013 for their album "Come to the River" and are back again with a nomination for Bluegrass/Country Album of the Year.
Christian Artist All Sons & Daughters
Leslie Anne Jordan and David Alan Leonard have been worship leaders at Journey Church in Franklin, Tennessee for years and they formed the band All Sons & Daughters in 2009. Their strong worship background is evident on their album All Sons & Daughters, which was released last year and is nominated for Worship Album of the Year. Provident Label Group is proud to be part of the songwriting process with an incredible artist.
Christian Artist Elevation Worship
Elevation Church started in North Carolina and it has lead to 13 Elevation churches and the Elevation Worship band. This has lead to four albums released and more in the works. They didn't stop there as they are now creating inspirational videos that go with their music. How good are these videos? Wake Up the Wonder is nominated for Long Form Video of the Year.
Film Mom's Night Out
Mothers of Preschoolers (MOPS) has identified the stress that mothers go through raising kids. There are few breaks and vacation doesn't actually exist. It was no surprise that they supported the film Mom's Night Out. It made me laugh, cry and relate to how motherhood can feel overwhelming and it's now nominated for Inspirational Film of the Year.
Show Your Support!
These Christian artists, song writers and film producers have entertained you, brought you into deep worship and spoken truth into your life. We love that you support them and how God is working through each person who has been apart of the projects leading to these incredible nominations. Watch for more updates about how you can take part in the 46th annual GMA Dove Awards at Nashville's, Allen Arena, which will be hosted by Erica Campbell and Sadie Robertson.
Article by Elise Cleary
I'm a Christian writer and editor residing in northern Michigan and thoroughly enjoy Christian centered music, movies, TV shows and books. A favorite song is "Oceans (Where Feet May Fail)" by Hillsong United and I find many songs by Matt Maher, Tim Timmons, Third Day, Laura Story, Jeremy Camp and numerous other artists uplifting. A few of my favorite Christian movies include God's Not Dead, The Shunning, Do You Believe and many by the Kendrick brothers. When I'm not writing, I enjoy running, experimenting in the kitchen and spending time with my musically gifted husband and spunky daughter. I am so blessed and in awe of the work God is doing throughout the Christian entertainment industry.