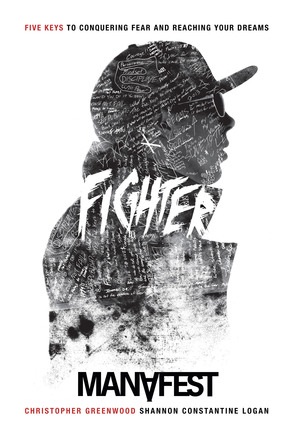 Three-time Dove Award Nominee Manafest has penned his personal story and will be releasing his first book, "Fighter: Five Keys to Conquering Fear and Reaching Your Dreams," next month on October 7. This book is a long time in the making as he began writing ideas over one-and-half years ago as he toured worldwide and released his best-selling album Fighter on BEC Recordings (2012).
"I don't know about you, but I love books," shares Christopher Greenwood aka Manafest. "I could point to different books in my library and tell you how they've changed my life. With music I only have a few minutes in a song to share my heart and sometimes even less after a show interacting with fans. So with the book 'Fighter,' I thought I could really give my fans more of me – to hear where I've come from, and how I've become a fighter."
This book was supported by fans through a fully-funded Pledge Music campaign. As a part of this campaign, Manafest is donating five percent of the pledges to World Vision. Manafest partnered with co-writer Shannon Constantine Logan on this book. Click here to order a copy of "Fighter."
A fighter himself, Manafest knows what it means to have a fight. His uphill climb began at age five when his father committed suicide. Years of childhood insecurity and fear gave way to a promising skateboarding career, but then an injury took that away. Music soon filled the void, and it would prove to be a perfect fit. He wanted to expand his story and unpack everything he has learned in written form with "Fighter."
"Whether it's family, personal, or professional, it's been a fight," he says of a life and career that, despite their many layers and successes, are really just beginning to step into the ring. "I've had the willingness to bear pain to get through all this, and I'm winning now. 'Fighter' was made to keep bringing a light to people; keep fighting.
Manafest also continues to create new music and tour relentlessly. He has recently released a fresh new song, "Overboard," to radio and digital outlets. The single has been charting at Hot AC/CHR, Rock charts and on the National Christian Audience chart. Click here to watch the official music video for "Overboard." With the release of this new single, Manafest is getting his fans ready for a new album, which he is currently working on in-between tour dates.