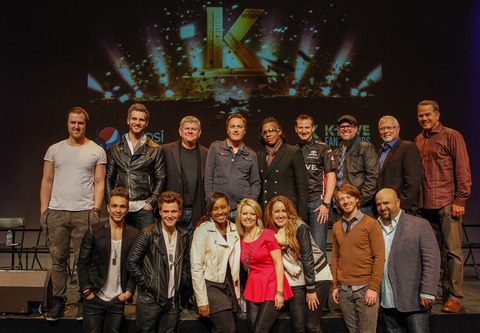 The Ultimate Fan Experience weekend kicks off Friday, May 30 and leads up to the star-studded award show at Nashville's Grand Ole Opry
K-LOVE partners with World Hope to aid in Detroit Revival support
Artist of the Year nods: TobyMac, Casting Crowns, MercyMe, Chris Tomlin and Matthew West
At an exclusive press event this morning at the Grand Ole Opry House in Nashville, K-LOVE announced the nominees for this year's second annual K-LOVE Fan Awards. Set for Sunday, June 1, K-LOVE - the leading Christian music radio network with a weekly listenership of over 13 million people - will once again bring the only fan-voted award show in Christian Music history to Music City. The K-LOVE Fan Awards and Ultimate Fan Experience kicks off on Friday, May 30 and will wrap with the star-studded award show at Nashville's Grand Ole Opry on Sunday, June 1. Among the attendees for today's press conference were K-LOVE's Mike Novak and David Pierce, as well as artists Mike Donehey (Tenth Avenue North), Jamie Grace, Michael McDowell (NASCAR), Bart Millard (MercyMe), Britt Nicole, Michael W. Smith and Michael Tait (Newsboys). The event wrapped with a performance by Anthem Lights who performed a mashup of the K-LOVE Song of the Year nominations. The studio version of that mashup is available now on iTunes®.
The press conference was available via LIVE stream this morning at http://www.klove.com/events/fan-awards, allowing fans and media all around the world to participate. Among today's nominee announcements, this year's K-LOVE Fan Awards will partner with World Hope to aid in the revival of the people of Detroit, MI. Every half a million votes cast for the award show will unlock a newly remodeled home for a family in need in Detroit with a goal of two million votes awarding up to four homes total. Check out the Revival of Detroit video here: Revivalofdetroit.com.
Leading in the top category for K-LOVE Artist of the Year are TobyMac, Casting Crowns, MercyMe, Chris Tomlin and Matthew West. Also revealed this morning was the first voting category for the First Christian Artist to Appear on 7UP Can. Other nominations to be announced at a later date are the Film/Television Impact, Book Impact and Sports Impact Awards.
Voting opens at Midnight (EST) on May 1 and ends at Midnight (EST) on Sunday, June 1. Winners will be announced LIVE at the Awards show in the categories of music, sports, books and movies. Performers already slated are fan favorites such as TobyMac, Steven Curtis Chapman, Third Day, Casting Crowns, Newsboys, and MercyMe, to name a few.
To vote or for more information, visit: www.KLoveFanAwards.com.
KLOVE Fan Awards Nominees 2014
Song of the Year
"The Only Name" Big Daddy Weave
"Overcomer" Mandisa
"Lord I Need You" Matt Maher
"Hello My Name Is" Matthew West
"This Is Amazing Grace" Phil Wickham
Artist of the Year
Casting Crowns
Chris Tomlin
Matthew West
MercyMe
Tobymac
Male Artist of the Year
Matthew West
Chris Tomlin
Colton Dixon
Steven Curtis Chapman
Tobymac
Female Artist of the Year
Britt Nicole
Francesca Battistelli
Jamie Grace
Mandisa
Natalie Grant
Plumb
Group or Duo of the Year
Building 429
Casting Crowns
MercyMe
Newsboys
Sidewalk Prophets
Tenth Avenue North
Worship Song of the Year
"God's Great Dance Floor" Chris Tomlin
"I Am" Crowder
"Oceans" Hillsong United
"Your Grace Finds Me" Matt Redman
"You Won't Let Go" Michael W. Smith
"Never Once" One Sonic Society
Best Live Show
For King & Country
NEEDTOBREATHE
Newsboys
Rend Collective
Switchfoot
Tobymac
First Christian Artist to Appear on 7UP Can
Hillsong Young & Free
Jamie Grace
Sidewalk Prophets
Tenth Avenue North