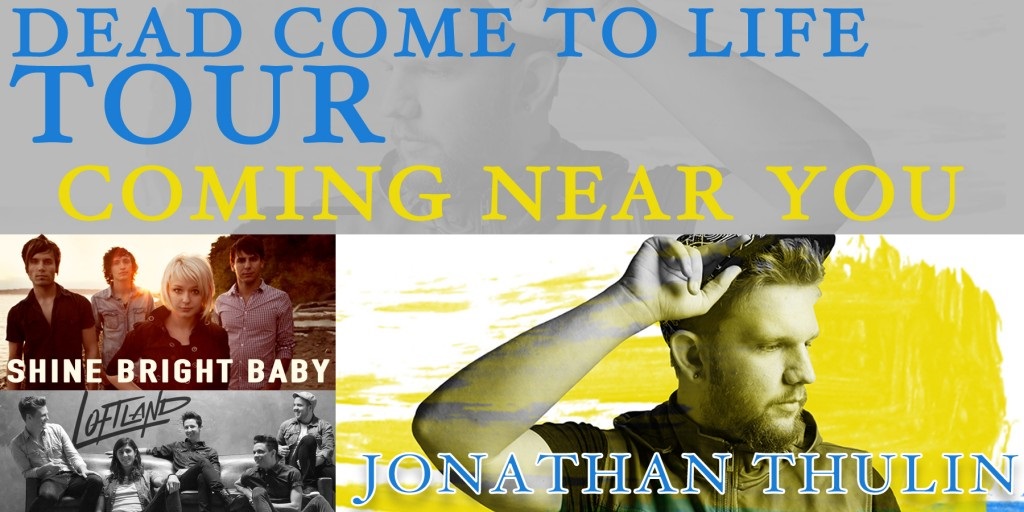 After a successful single debut for "Dead Come To Life", singer songwriter, Jonathan Thulin is proud to announce The Dead Come To Life Tour featuring special guests: Shine Bright Baby and Loftland. The tour will kick off in Salt Lake City, UT Friday, January 30th and will go until the end of February.
Check out the tour dates below:
Jan 30th - Salt Lake City, UT - Calvary Chapel
Jan 31st - Las Vegas, NV - Calvary Chapel
Feb 1st - Mission Viejo, CA - Mount Of Olives Church
Feb 2nd - Mission Viejo, CA - Mount Of Olives Church
Feb 3rd - Barstow, CA - First Baptist Church
Feb 5th - Bakersfield, CA - Valley Baptist Church
Feb 7th - Sutter Creek, CA - New Life Christian Center
Feb 8th - Mt. Shasta, CA - Mountain Christian Fellowship
Feb 9th - Redding, CA - The Stirring
Feb 12th - Prineville, OR - Book & Bean
Feb 13th - Marysville, WA - Marysville Nazarene
Feb 14th - Elma, WA - Malone Assembly of God
Feb 15th - Sammamish, WA - EX3 Rec Center
Feb 19th - Kamiah, ID - The Life Center
Feb 21st - Duluth, MN - Salem Covenant Church
Feb 22nd - Green Bay, WI - Cup O Joy
To purchase The White Room by Jonathan Thulin click here.
To purchase Dreamers by Shine Bright Baby click here.
For more information about The Dead Come To Life Tour visit these sites: DCTLTour.com, Facebook.com/ShineBrightBaby
"Architecture" by Jonathan Thulin
"Beautiful Love" by Shine Bright Baby
"Hold On, Small One" by Loftland