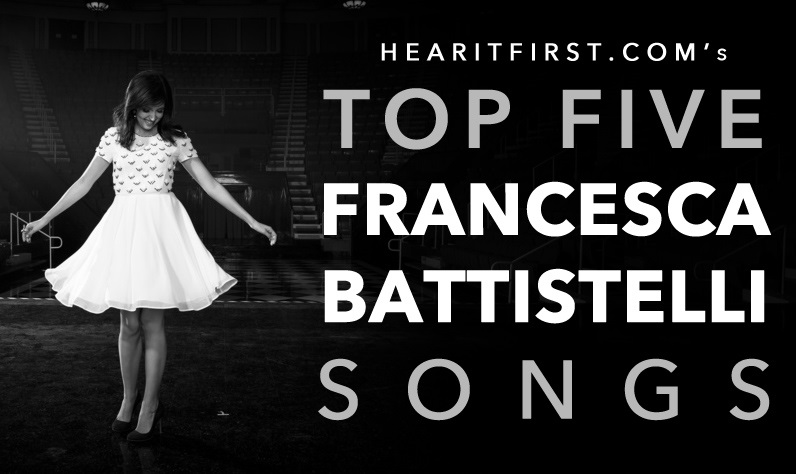 Francesca Battistelli brings in a lot of what is happening in her own life into her songs. As one who is growing her faith, overcoming daily challenges and balancing having a career and being a mom, her songs relate to many. She came into the Christian music world independently in 2004 and then was signed by Fervent Records in 2008. The first single released to radio stations was "I'm Letting Go", an upbeat melody that talks about letting God guide your life, which became the 16th most played song on Christian radio stations. In 2009, Battistelli was nominated for a Grammy Award for "Free to Be Me" as the Best Gospel Performance. Her studio albums include Just a Breath, My Paper Heart, Hundred More Years, If We're Honest and Christmas.
Here are HeartItFirst.com's top 5 Francesca Battistelli songs:
5. Strangely Dim
Ever struggle with letting the little things in life cloud your faith? "Strangely Dim" describes this and what happens when you focus on God.
Favorite Lyrics
But when I fix my eyes on all that You are
Then every doubt I feel
Deep in my heart
Grows strangely dim
All my worries fade
And fall to the ground
Cause when I seek Your face
And don't look around
Any place I'm in
Grows strangely dim
4. Beautiful Beautiful
When you give your life to Christ you are made into a new person. You experience mercy from God and become the beautiful and unique person God created you to be.
Favorite Lyrics
Now there's a joy inside I can't contain
But even perfect days can end in rain
And though it's pouring down
I'll see you through clouds
Shining on my face

Like sunlight burning at midnight
making my life something so
Beautiful, Beautiful
Mercy reaching to save me
All I need
you are so
Beautiful, Beautiful
3. Write Your Story
Everyone has a Christian journey and it includes how God is using you to write His story. Francesca reminds us that when we let God write our story the ending far exceeds what we could ever do.
Favorite Lyrics
My life
I know it's never really been mine
So do with it whatever You like
I don't know what Your plan is
But I know it's good, yeah

I wanna tell You now that I believe in
I wanna tell You now that I believe in
In You, so do what You do, oh
2. This Is The Stuff
If you have children, ever run late, lose your keys and just have one of "those" days, this song is for you. The little things in life can frustrate us and hinder us from seeing the bigger picture of God's will. It's clear that Francesca Battistelli is singing from experience.
Favorite Lyrics
45 in a 35 sirens and fines
While I'm running behind
Whoa ho ho

This is the stuff that drives me crazy
This is the stuff that's getting to me lately
In the middle of my little mess,
I forget how big I'm blessed
This is the stuff that gets under my skin
But I've gotta trust You know exactly what You're doing
Might not be what I would choose
But this the stuff You use
1. Free To Be Me
Becoming an adult and figuring out where you belong in the world takes patience, but God has a plan for you. You will fall and fail at times, but this is part of God transforming you through His perfect image. It doesn't mean it's easy though!
Favorite Lyrics
When I was just a girl
I thought I had it figured out
My life would turn out right
And I'd make it here somehow
But things don't always come that easy
And sometimes I would doubt

'Cause I got a couple dents in my fender
Got a couple rips in my jeans
Try to fit the pieces together
But perfection is my enemy
On my own I'm so clumsy
But on your shoulders I can see
I'm free to be me
God has blessed Francesca Battistelli with an amazing voice and she fuses real life with what it is like to be a Christian in so many of her songs. We love her songs and are excited for more music to come!
Have you had the opportunity to see her in concert? She will be playing at fairs and festivals in Hillsboro, Ohio; Manchester, Iowa; Bessemer, Alabama; Saginaw, Michigan; and Goshen, Indiana in July and has several concerts in the United States planned through the rest of the year.