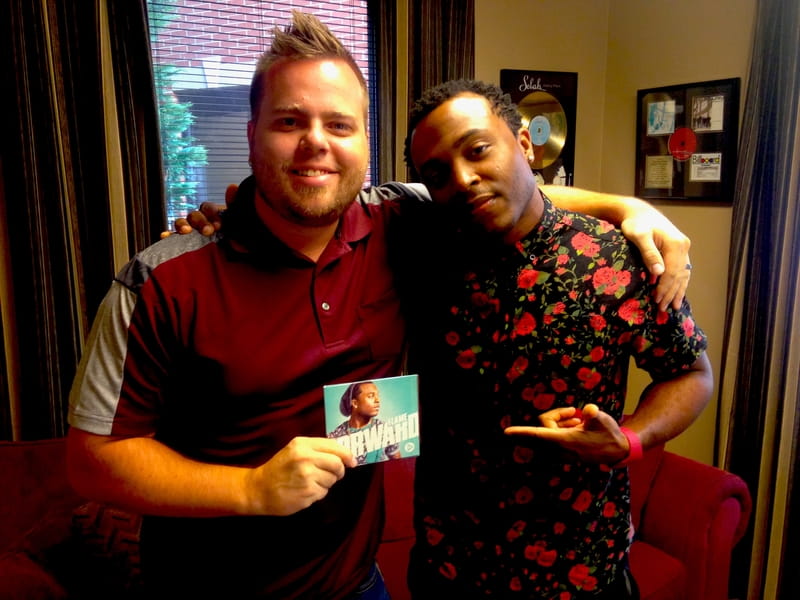 From Left to right: Aaron Chesling (Hear It First Media) and Flame (Clear Sight Music)
At Turning Point Media in Franklin TN I sat down with Grammy nominated rap artist of Clear Sight Music, Flame (Marcus Gray). Discussing his faith and music was truly inspiring and motivating.
We discussed what we can expect from his 8th studio album, "Forward". Prior to chatting with him I took a week to listen to the album in its entirety. Its syncopated rhythms makes for a contagious and heart pounding listening experience. The content was equally engaging with thought provoking lyrics about passivity amongst Christians in America, the church and the climate in which we live in.
I asked about the name of the record, "Forward", what is the symbolism behind it.
"The word encompass a few things, how us Christians live in a progressively secular America, to emphasize that we should not be stagnate, that we can't be passive or mean but kind, nevertheless onto engage the culture but without losing the gospel. I was also influenced by Russell Moore's book Onward, which I found to be very insightful when developing the title of this record"
I continued to ask him about whether or not he felt convicted to speak up on behalf of other Christians who may feel more reserved or uncomfortable about defending moral principles and values, his response:
"My nature is to be more reserved, after I accepted Christ I felt that this was one thing that God helped me overcome, He really started to exercise me to being more comfortable with uncomfortability".
He then continued on explaining how this further development in his character influenced his artist name, Flame. He mentioned that God's word is a fire. He relates to the struggle of fellow Christians, he wants to say what he is convicted to say and what needs to be said while maintaining a level of kindness and love that others can feel. This is a strong theme that is present throughout the record.
"Passivity is the result of not exercising your faith" Flame also quoted "Christian Liberalism is not Christianity at all" and that we should not fall to this temptation, very strong words that he firmly believes in and proclaims in his record.
Flame continued to express the meaning of relationships in our culture through a few songs on the record. "Know The Times", "Absolute Truth" and "Had Me Flexin'" he discussed further. Making ties to Ferguson MO, religious liberty issues in America and other current events. He mentions that he is providing an apologetic alternative view to ideologies being presented in difficult communities. Creating an opportunity to save yourself not only from the wrath of sin but also decisions that can have consequences down the road.
Flame also discussed his first book "All In" released this year through Clear Sight Music. One new thing that he has experienced through the process of creating it was being critiqued on content and actually writing the book vs writing a song. "It was something I learned greatly from, influencing new songs for the future", Flame said. The book is a guide on how to live out your faith in school, at the workplace, in your relationships and with your personal integrity.
Finally I asked for Flame's testimony
"I grew up in the hood in St. Louis heavily influenced by the rap scene, it shaped how I saw the world. My family were Christians pushing me towards Christ but I was conflicted, I told myself I was gonna do both, live little bit for God and little bit for myself, that caught up with me at my high school. I was transferred to a new high school and on my way to orientation at a new school, I was involved in a horrific accident as the car I was riding in was struck by an 18-wheeler three times, 12 car pile up shattering the entire left side of my body. As the collision happened, I just remember being terrified, not even thinking about the pain, because there was pain, but I was just thinking, 'Man, I'm about to die. I'm 16 years-old, and I know I haven't lived the things I believe as it relates to Christianity.' I ask my Grandmother why this happened and she told me that 'you know right from wrong, you need to turn to Jesus' she passed away shortly after that, I then accepted Christ at 16. "
He also then finishes by explaining how to engage culture with the gospel.
"A: you have to cultivate your relationship with the Lord, the direct results should be to love people. B: be the context in which you are engaging, be sensitive to their courts and understand the way they see the world and then move in with a heavy and healthy understanding of God's mindset so that you are connecting the dots between their struggles and what God says." He then summerized by encouraging us to know who your reaching and understand God's word.
I strongly recommend the record, a truly inspiring musical experience.
To find more tour dates, Flame's All In, new music and to learn more visit Clearsightmusic.com