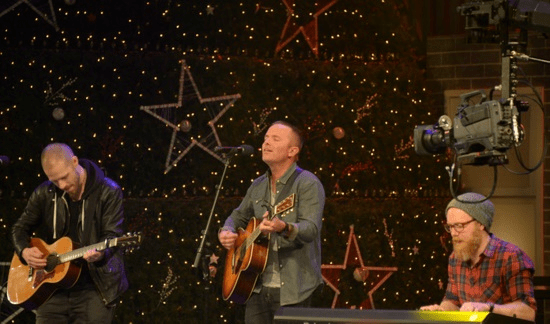 GRAMMY® Award-winner Chris Tomlin is a featured performer on Fox News Radio's two-hour Christmas special, "Todd Starnes All-American Christmas," (#toddschristmas) set to air on Christmas Eve. The special will air on a number of Fox News Channel digital properties including toddstarnes.com, FoxNews.com, FoxNewsRadio.com and FoxNation.com. Additionally, the show will air on Fox News Radio affiliate stations along with American Family Radio, Bott Radio Network and KCBI in Dallas.

The special was taped before an audience of almost 4,000 at Bellevue Baptist Church in Memphis, Tennessee. The show was hosted by Fox News Radio Host Todd Starnes, whose daily commentaries air on almost 400 radio stations across the nation.

Tomlin's segment included performances of "O Come All Ye Faithful" and "Angels We Have Heard On High" from his RIAA Gold-certified Glory In The Highest project, as well as "Jesus Loves Me," the current hit single from his latest best-selling effort, Love Ran Red.

Other featured guests on the special include Duck Dynasty's Al Robertson, Former Gov. Sarah Palin, New York Times best-selling author Karen Kingsbury and musicians Ellie Holcomb and Kyle Kupecky along with a 400-voice choir and orchestra.

To learn more about Todd Starnes All-American Christmas, and for detailed air times, visit: http://radio.foxnews.com/toddstarnes/todd-starnes-all-american-christmas.
Photo Credit: Morris Abernathy