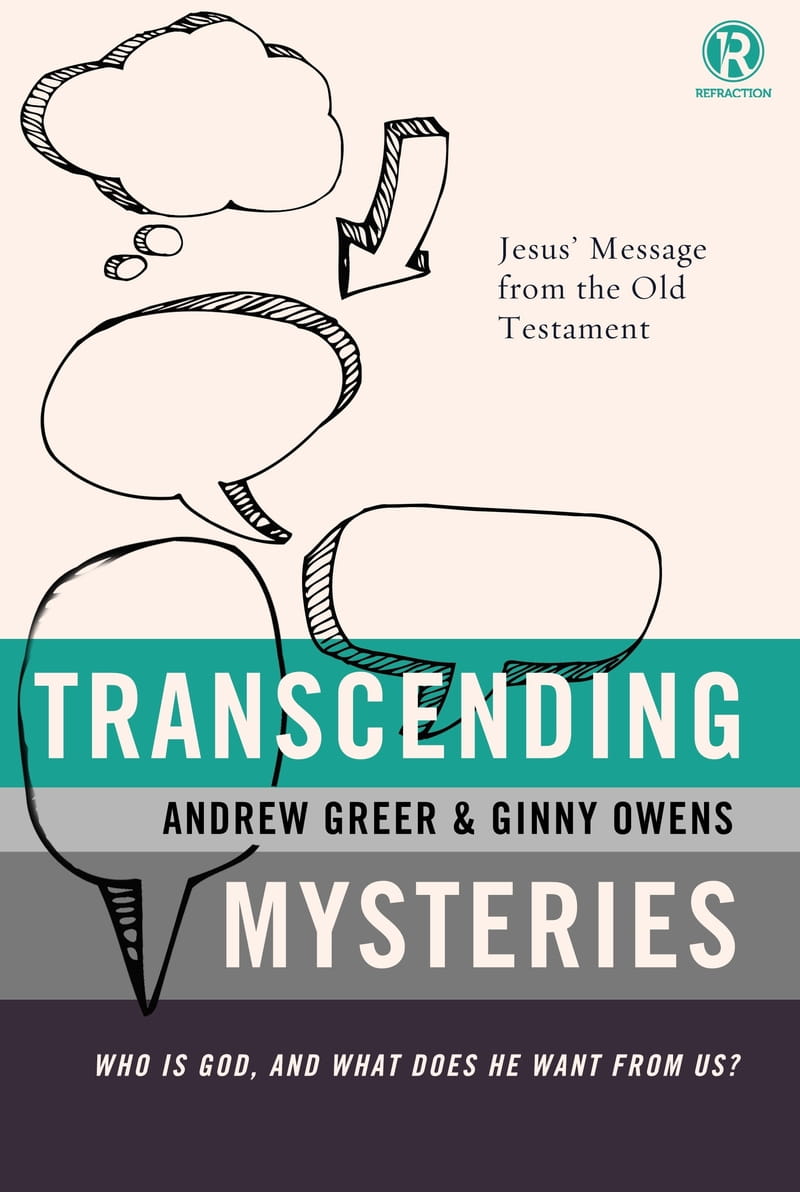 Andrew Greer and Ginny Owens have a lot in common. Both are singers and songwriters. Both were lead by God in their careers. Both have gone on singing tours and both have become successful musicians. Now, both Andrew and Ginny can add author to their bios. They co-authored the new book called Transcending Mysteries, which is a book within the Refraction Collection published by Thomas Nelson. It's not just any book, no, it dissects who they are spiritually and they open up to uncover mysteries of the Old Testament. The book guides readers to "reconcile a New Testament Redeemer with an Old Testament Judge." Have you ever wondered what God wants from you? Ginny shares how she didn't want to be just another blind musician. She faced rejection on multiple levels, but never gave up on God. Andrew details how he always assumed that music would be readily available, until he found himself out west, in a wilderness where God would breakthrough to him. He still found a piano to play and music soon had a whole new meaning as he began writing the songs that ended up on his first album.
I had the chance to ask Ginny and Andrew a few questions about their new book and here's what they said.
Question: What encouraged you to write this book?
Andrew: "I've been having these conversations with friends here in town in Nashville who have been struggling with legalistic backgrounds in church that really has just done a number on how they related to God and what they were doing was filtering some toxic and unhealthy relationships in their own lives and their feelings about that to God. We reopened scripture and they felt defensive and harmed by scripture – especially from the Old Testament. We began opening up scripture with an open handed and open hearted mindset. We decided to see who God was and that's where Ginny and I launched the book from – this idea of lets open up the Old Testament, the place we don't want to go to. The place we are fearful of. The place we have all kinds of baggage. Lets just scrap the baggage and lets reopen it. Let's let God tell us who He is."
Ginny: "Andrew and I have been friends for a long time and some friends of our at Thomas Nelson said we should write a book together. We both had an interest in the Old Testament because of our curiosity, perhaps our fear, of opening it had lead us to be really interested and inviting our hearts and minds to explore it a bit further."
Question: What were some of the struggles you experienced writing and sharing some of the stories from your lives?
Andrew: "The first obstacle for me was the fact that I'm not a theologian, I don't consider myself one. I'm not a seminarian and I don't have a degree in religious studies of any sort, so what qualifies me? I went to my pastor and asked what qualifies me to write this book. He said the Holy Spirit. First was building some confidence that my personal experience with God and that's through creation; that's through scripture; and that's through relationships with others; through struggles; and through things that have plagued my own life. Those are important in understanding and discovering God."
Ginny: "I encountered as I studied scripture and what people wrote about scripture, that I gained a lot of insights through writing down my own stories. When I wrote about my struggle to surrender my singleness I then learned a lot about Hannah's struggle and journey to surrender her childlessness. We wanted to include things from our stories that we felt might be relatable. It was interesting to discover the commonalities between our stories and stories of people like Hannah. You understand that the human struggle has always been the human struggle."
Question: What topic stands out the most to each of you?
Ginny: "A couple of things really stood out to me. One was discovering the thread of grace woven throughout the Old Testament was something I had never done before. I think I knew that grace was evident through the Old Testament. I really feel like I saw how God absolutely loves His people and engaged them over and over in relationship and gently, and not so gently, pulled them back to Himself. I think just that overarching characteristic of God was very moving to me. God used struggle to invite people back to Him and to engage in being part of Him bigger story."
Andrew: "We live in a culture that is really motivated by health and prosperity of some sort. That may not always be tangible items. Yet, we live in a great deal of discomfort that is proven by the amount of anxiety that we deal with. We deal with a lot of internal tension that we work to make out external situations smooth and seamless and perfect. We feel like we can relate to these people. We think we can't relate to these ancient people with water pots and sandals, but we can relate to the human condition because it has always been the same. We will never outrun the tension that is produced by being contained in these mortal bodies with immortal spirits. That's the main thing I discovered throughout. There is nothing un-relatable here."
Transcending Mysteries is divided into eight chapters and each one focuses on a specific passage from the Old Testament. Andrew and Ginny both give very personal accounts of how the scripture relates to them and what we can learn. They end each chapter with reflection questions to guide readers in growing their faith and the lyrics of one of their songs that fits perfectly into the themes of each chapter. The book is laid out in a conversational style and includes illustrations, such as thought bubbles. It breaks down the wall that many people, including myself, have carried in trying to understand the Old Testament. Checkout RefractionBooks.com to learn more and find details on how to purchase it.
Article by Elise Cleary
I am a Christian writer and editor that lives in northern Michigan and thoroughly enjoy music, movies, TV shows, books and other entertainment with a Christian focus. My favorite song is "Oceans" by Hillsong United because it reminds me that has big plans for me and everyone else who puts their trust in Him. There are many movies that have impacted my life, but a few include God's Not Dead, The Shunning and Letters to God. When I'm not writing I enjoy watching movies and laughing with my busy toddler and husband.