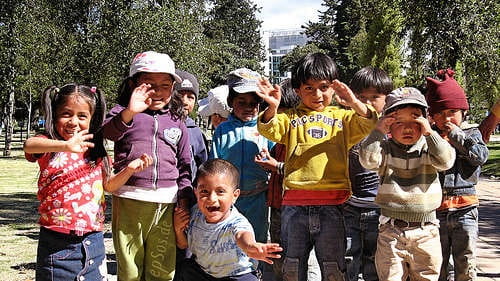 It takes a special teacher to work with preschool-aged children and the key to a successful class is incorporating fun Bible activities. A common mistake a new Bible teacher makes is assuming the kids will hang onto every word you say and stay seated the entire time. Kids don't work this way and you will have more fun by adding activities that help emphasize your lesson. When I was teaching preschool-aged children, I would break up the time into three or four segments. My kids often looked forward to doing the same activities slightly modified week after week.
Here are some great Christian preschool Bible activities.
Minibooks to Color
Kids love to color and minibooks are a great activity for small children. There are many templates online that are usually around a full sheet of paper with various boxes for kids to color. Once they have finished coloring, just fold the sheet of paper based on the lines. Many websites have templates you can download and include themes about the Old Testament, New Testament, Creation and specific stories like Adam and Eve in the garden.
"The Truth" Proverbs 27:9 "Oil and perfume make the heart glad, and the sweetness of a friend comes from his earnest counsel."
[caption id="attachment_5852" align="alignleft" width="500"] "It takes a special teacher to work with preschool-aged children and the key to a successful class is incorporating fun Bible activities."[/caption]

Friendship Bracelets
If you have a class of girls, friendship bracelets will go over well. You can also use this activity for boys, but be sure to include colors, shapes and beads that boys like. Make the bracelets out of beads, yarn, string, hemp and many other craft materials. Let the kids get as creative as they want! This is a great activity when you are talking about what friendship means and how Jesus is our friend.
Quilt Books
Making quilt books for your young students is a great way for them to visualize and learn about key Bible characters and stories. You can cut shapes out of felt and help the kids sew or glue the pieces together. This could be a wonderful activity to do every Sunday. Consider allowing the kids to play with them during worship service. After service each Sunday, they can return the books and borrow a new one the following week!
Jericho is Falling Down Song
When your students are having trouble sitting still, have everyone stand up and follow the motions to this fun song! Bible schoolteachers can vary the song by assigning specific motions to students after the kids understand the song.
March around the wall today. (March in a circle.)
Step-step-step;
Shout, "Hoo-ray!" (Shout!)
March around the wall today.
God will help us. (Point to heaven.)
Jericho is falling down, (Hold hands and march in a circle.)
Falling down,
Falling down.
Jericho is falling down
To the ground. (Sit on the floor.)
Family Tree
It can be challenging to help kids realize the Bible stories they are learning happened thousands of years ago. An interactive activity is to create two family trees. One will be of their family and the other will focus on a Biblical family. Bible schoolteachers can turn this into a memory game to help the kids learn the members and order of key families. Great Biblical families include Abraham, Adam and Eve, Mary and Joseph and even the 12 apostles.
Decorate Isaac and Rebekah
The story of Isaac and Rebekah is very unique and quite different from how people decide to get married today. As you are telling the story to your curious students, have them decorate cutouts of how the bride and groom looked on their wedding day. You can talk about the differences of what was typically worn at a wedding in Biblical times compared to how a bride and groom dress today.
Giants and Grasshoppers Tag
Preschoolers can get very antsy, so why not play a fun game of tag? Divide your students into two groups, with one group acting as grasshoppers and the other as giants. All grasshoppers will need to squat low and hop around, trying to tag the giants. Giants can only walk around while taking giant steps. When a giant is tagged by a grasshopper, they will turn into a grasshopper and the grasshopper will turn into a giant!
"The Truth" Galatians 5:14 "For the whole law is fulfilled in one word: "You shall love your neighbor as yourself."
Neighbor Song
Here's another song for your class to move to and a great way to talk about who our neighbors are and how we need to treat each other.
Sing this song to the tune of "London Bridge."
Love your neighbor as your friend, as your friend, as your friend.
Love your neighbor as your friend, love your neighbor.
(Have children hug each other while they sing.)
Give your neighbor a great big hug, great big hug, great big hug.
Give your neighbor a great big hug, hug your neighbor.
(Have children point to someone new with each "I love you.")
Tell your neighbor "I love you," "I love you," "I love you."
Tell your neighbor "I love you," love your neighbor.
Handkerchief Love Tug
Teaching kids how to talk to others about Jesus is critical and will stay with them throughout their life. A great preschool activity is to modify the traditional game of Tug-of-War. Tie a handkerchief in the middle of a rope and divide the kids up into two teams. The handkerchief represents someone who is lost to Christ. Place tape or paper on the floor about three feet apart as markers and make sure the handkerchief is in the middle. Have each team line up on either side of the rope and pull! The team that pulls the handkerchief across their marker has to come up with either what to say or an act of kindness to show the person Christ's love.
Bible Matching Game
A great way to help children learn and remember key characters in Bible stories is to play a matching game. There are many variations available, but one option includes focusing on an individual story and pairing characters with either character traits or events tied to that individual. This is an effective activity in helping kids learn about the apostles, Joseph, the Israelite kings and priests, major events in Jesus' life, the life of certain prophets, Noah and Moses.
Although these activities are geared toward Bible school, many of them can also be used in daycare, classrooms and even at home if you have multiple children. Have fun as you watch the kids smile and make important connections. Do you have other favorite activities? I would enjoy hearing about what other songs, games and activities you have found successful.
 Read this popular F&E title about shcools for your children after they've grown up!  Top 12 Christian Colleges And Universities
Resources- ESV Holy Bible, Youtube, photo credit: epSos.de via photopin cc