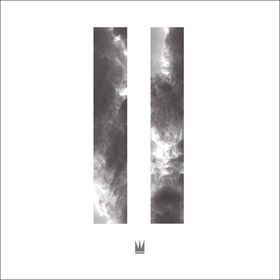 OCTOBER 07, 2015 - Gotee Records' Capital Kings released their new album II, which peaked at No. 2 on the iTunes Dance album chart in the United States and topped the chart in Central America countries. The album had also just produced the duo's second single in a row to reach No. 1 at Hot AC/CHR radio. The hit single "Into Your Arms" follows the top single "Fireblazin." This is the group's third single including their involvement on Royal Tailor's "Ready. Set. Go." (feat. Capital Kings).
Here's what the media have had to say about II:

"While their brand of electronic dance music flavored with touches of pop and hip-hop may be a rarity in the CCM world, that doesn't mean they don't have a place. After a more eclectic debut, Capital Kings have honed their sound, and this album benefits from their musical commitment." - Rhapsody
"There really isn't anyone else who convincingly pulls off this genre in this industry...the duo has provided exactly the uniqueness that 2015 needs. As a solid EDM record with a unique sound for this circle, Capital Kings' II is one of this fall's biggest surprises." - JesusFreakHideout

"On their sophomore album, II, the duo reins in th ediversity to further their EDM impulses (and pulses) with a propulsive, dance hall-ready set that sits well alongside global faves like Tiesto." - CCM Magazine

"We love premiering new Captial Kings music on Rapzilla.com because we know it will bring a fresh new sound to Christian Hip Hop. With their song 'Northern Sky' featuring KB, they gave Christian Hip Hop fans a new addition to their playlists." - Rapzilla
Watch the Album Streaming Event Capital Kings hosted on YouTube last week:

ABOUT CAPITAL KINGS:
Capital Kings, the duo of Cole Walowac and Jon White, blends pop, electronic dance music, and rap into an intoxicating musical mix that makes audiences want to move. Their self-titled debut LP debuted at No. 5 on the Billboard Christian Albums chart and peaked in the overall Top 40 iTunes Albums Chart during release week. The album featured the two Top 5 Christian Hot AC/CHR radio singles – "You'll Never Be Alone" and "I Feel So Alive." Their upcoming sophomore album II project the features the hit "Fireblazin," which was No. 1 at Hot AC/CHR for 10 consecutive weeks.
Capital Kings is not only known for their creative and unique EDM music, singles and remixes, the group has also made strong waves in the touring sector as they have toured with artists such as TobyMac, Crowder, All Sons & Daughters, Lecrae and more. They continue to tour internationally with recent shows to Mexico City, Mexico, Bogota, Colombia and an upcoming November date in Amsterdam, Netherlands. Past international trips include Guatemala City and Peru. Since releasing their debut self-titled album in 2013, Capital Kings has been on the road as part of Winter Jam, TobyMac's Hits Deep Tour and TobyMac's Summer Shed Tour with Skillet & Lecrae and Crowder's Neon Steeple Tour.