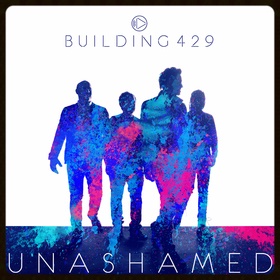 BUILDING 429's UNASHAMED IS OUT NOW
Album Has Been Touted As "Their Best Album Yet" And "Inspiring, Encouraging Songs For The Church"
The GRAMMY-nominated band Building 429 released their new studio album, Unashamed, September 25 with Essential Records. In its first week, Unashamed debuted at No. 2 on Billboard's Contemporary Christian Chart and has surpassed the sales growth of the band's 2013 release, We Won't Be Shaken, by an astounding 20%.
Currently headlining shows as well as appearing on the Women of Faith tour, Building 429 is sharing their new songs, as well as fan favorites, in front of thousands across the country. This past weekend alone they appeared in front of 18,000 people at Dallas' Women of Faith conference. Beginning in February, the band will join the TobyMac Hits Deep Tour. The band's headlining shows through 2015 and remaining Women of Faith tour dates are listed below.
Much critical acclaim has come in since the release of Unashamed. With an upcoming CCM Magazinecover story, a review in Charisma, they've also been covered within Guideposts online, American Family Radio, CBA Retailers + Resources and more. The band also performed a new song during street week on Nashville's NBC hit show "More At Midday." Here are a few key reviews praising the album:
"Building 429 has done it again. They've always put out great, heart-filled music for all ages, but Unashamed is definitely one for the history books. Their sound has always been something different and their uniqueness is undeniably evident on this release." - The Christian Beat
"One of Christian music's surest bets.....Given the tremendous success of Building 429's last few albums, it's hard not to project the same for Unashamed." - CCM Magazine
"Unashamed is the band's best work yet, and a testament to their longevity and their relevance." - 365 Days of Inspiring Media
"Overall, the album's music will lead our worship by taking us another step out of our comfort zone to dance. And with the lyrics corresponding with the theme, it will sure help connect us in worship." - Christian Concert Alerts
The new single from Unashamed, "Ocean Deep," was touted as "...an absolutely beautiful and soul-stirring declaration of the power of God's relentless grace..." by Jesus Freak Hideout. "Ocean Deep" just hit radio last week and can be heard on stations across the country. The album's first single, "Impossible," made label history this spring by receiving an astounding 95 radio adds on its add date.
BUILDING 429 TOUR DATES*:
Oct. 10 - Charlotte, NC - Time Warner Cable Arena (Women of Faith)
Oct. 16 - South Bend, IN - Christian Center Church
Oct. 17 - St. Paul, MN - Xcel Energy Center (Women of Faith)
Oct. 23 - Steelville, MO - Meramec Music Theatre
Oct. 24 - Louisville, KY - Evangel World Prayer Center
Nov. 4 - Bradenton, FL - Woodland Community Church
Nov. 5 - Clearwater, FL - Countryside Christian Center
Nov. 6 - Lakeland, FL - Victory Church
Nov. 7 - Birmingham, AL - BJCC Arena (Women of Faith)
Nov. 8 - Newnan, GA - Unity Baptist Church
Nov. 14 - Hartford, CT - XL Center (Women of Faith)
Nov. 21 - Sacramento, CA - Sleep Train Arena (Women of Faith)
Dec. 5 - Portland, OR - Moda Center (Women of Faith)
Jan. 16 - Fairfax, VA - Patriot Center (Women of Faith)
Jan. 23 - Atlanta, GA - Philips Arena (Women of Faith)
*All tour dates subject to change. Please visit Building429.com for the most updated information
The band performed during street week at Nashville's "More At Midday"
(L-R) Jesse Garcia, Aaron Branch, WSMV's Holly Thompson, Jason Roy, More At Midday's Kacy Hagerty, Michael Anderson
(photo courtesy of Merge PR)
About Building 429:
Building 429 - comprised of Jason Roy, Michael Anderson, Jesse Garcia and Aaron Branch - is well-known as one of today's top artists due to their high-energy live shows, lyrically-driven and anthemic songs and their constant message of hope through Christ. Their previous project, We Won't Be Shaken, debuted at No.1 on Billboard's Christian Albums chart. The strength of the album resulted in the band's first GRAMMY nomination for Best Contemporary Christian Music Album. The first single and title track became a multi-week No. 1 hit on the Hot AC/CHR chart and AC Indicator charts, had over 246-million accumulative audience impressions, and was nominated for a Billboard 2014 Music Award for Top Christian Song and K-LOVE 2014 Fan Award in the Group or Duo of the Year category. The second single from the GRAMMY-nominated album, Press On, reached No. 3 on Billboard's Christian Singles Chart. For the second time in the band's career, Building 429 was honored with a BMI 2013 Song of the Year award for "Where I Belong," and the single garnered the group their first nomination from Billboard's 2013 Music Awards for Top Christian Song. At the same time, the 2013 K-LOVE Fan Awards nominated Building 429 as Breakthrough Artist of the Year.
The group's fifth studio project, Listen to the Sound, released in 2011 and debuted at the top of iTunes' Christian & Gospel Albums chart. The title track hit No. 1 on the CHR chart and Top 5 on Billboard's National Christian Audience Chart. Follow up single "Made For You" reached Top 5 on the Christian CHR charts, while the project's third single, "Where I Belong," was the No. 1 song on Billboard's Christian Audience chart for 15 consecutive weeks. "Where I Belong" was Billboard's 2012 Christian Song of the Year, Christian AC Song of the Year, Christian Songs Artist of the Year and Christian AC Songs Artist of the Year.
Building 429 first broke through with its 2004 No. 1 hit "Glory Defined," which was named BMI's Christian Song of the Year in 2005. That same year, Building 429 was recognized as New Artist of the Year at the Gospel Music Association's Dove Awards.