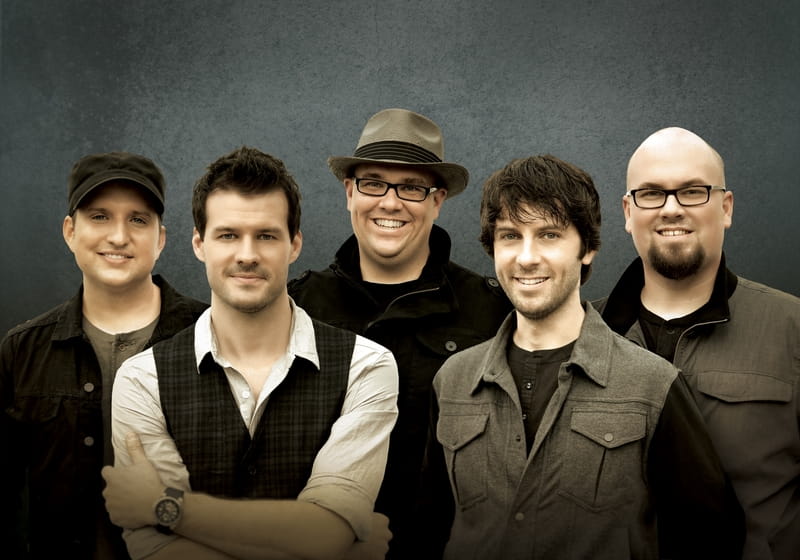 BIG DADDY WEAVE CELEBRATES THIRD STRAIGHT NO. 1 SINGLE,
"THE ONLY NAME (YOURS WILL BE)"
Set to Embark on Second Leg of "The Only Name Tour" on February 21 in Waukesha, WI
Dove Award-winning group Big Daddy Weave is celebrating their third consecutive No. 1 hit with "The Only Name (Yours Will Be)" today. It is the first No. 1 single of the year on both the National Christian Audience chart and AC Monitored chart. This marks the second straight year the band has scored the first AC Monitored No. 1 of the year, with the band's blockbuster hit, "Redeemed," holding the top spot for the first chart in January 2013. The three consecutive No. 1 singles - "Love Come To Life," "Redeemed" and "The Only Name (Yours Will Be)" – are all from Big Daddy Weave's current and career best-selling album, Love Come To Life. On February 21, Big Daddy Weave will embark on the second leg of "The Only Name Tour" with support from Group 1 Crew and Tim Timmons. It is slated to run 31 dates through May 3.

"The Only Name Tour" dates:

Feb. 21: RiverGlen Church – Waukesha, WI
Feb. 22: Open Door Church – Chillicothe,OH
Feb. 23: Calvary Temple Christian Center – Springfield, IL
Feb. 27: Langston Baptist Church – Conway, SC
Feb. 28: Church On The Hill – Fishersville, VA
March 1: First Baptist Church of New Castle – New Castle, DE
March 2: Chestnut Assembly of God Church – Vineland, NJ
March 7: Eastern Heights Church – Cleburne, TX
March 9: Abilene Civic Center – Abilene, TX
March 10: Clovis Civic Center – Clovis, NM
March 11: Las Cruces Convention Center – Las Cruces, NM
March 14: Redding Civic Auditorium – Redding, CA
March 15: New Hope Community Church – Happy Valley, OR
March 16: Gateway Fellowship – Poulsbo, WA
March 20: Mother Lode Theatre – Butte, MT
March 21: Highland Park Community Church – Casper, WY
March 23: Sioux Falls First Assembly of God – Sioux Falls, SD
March 28: Silver Dollar City– Branson, MO
March 29: Victory Ministry and Sports Complex – Joplin, MO
March 30: Woodward High School Auditorium – Woodward, OK
April 3: Silverdale Baptist Church – Chattanooga, TN
April 4: Lightsey Chapel at Charleston Southern University – North Charleston, SC
April 5: The Refuge – Kannapolis, NC
April 6: Kings Gate Church International – Hamlet, NC
April 12: North Platte High School – North Platte, NE
April 25: Church of Hope – Sarasota, FL
April 26: Florida Bible Church – Miramar, FL
April 27: First Baptist Church of Umatilla – Umatilla, FL
May 1: Grace Christian Academy – Kankakee, IL
May 2: Dyersburg State Community College – Dyersburg, TN
May 3: St. Luke UMC Ministry Center – Columbus, GA

For more information on Big Daddy Weave and to purchase tickets, please visit www.BigDaddyWeave.com/shows.