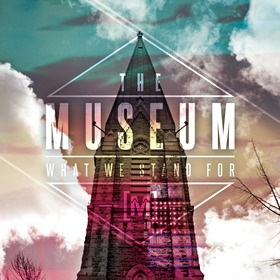 BEC Recordings' The Museum will be releasing their third label release on May 6 titled What We Stand For. Radio will be introduced to the next chapter of The Museum's music with the radio single "Saved My Soul" that goes for adds this Friday, April 11. While the Atlanta-based group has released two projects that have delivered pop-hooks listeners have been driven to, at the core they are worship leaders. This new album is reflective of their hearts for worship.
"I've been leading worship for nearly a decade now. It's my background, that's my heart, that's my passion, that's what I do," says The Museum's lead singer, songwriter and guitarist Ben Richter. "When we started this band, that's actually what we were doing. We were leading worship for a church youth group on the south side of Atlanta."
With What We Stand For, The Museum draws the proverbial line in the sand of who the band wants to be—and what it wants to accomplish. Guided by the call in Micah 6:8 to act justly, love mercy and walk humbly with our God, What We Stand For is a bold statement about what believers should stand for, rather than rally against.
"I continually see so many people bickering and fighting and speaking loudly about what we are against, but I want to come to the point where we as a Church are known for what we are for," Ben shares. "That verse in Micah has been really clear on saying that if people know us for something, it should be those things. We want to use our platform to seek justice and mercy, and ultimately, that we have humility and just walk with God."
Filled with honest songs of God's goodness, grace and presence in life's most difficult moments, What We Stand For is an invitation for listeners to celebrate, contemplate and draw close to God. What We Stand For also reflects the band's lifelong commitment to advocating for social justice in their partnerships with Not For Sale and Compassion International and desire for the Church to be "the hope of the world."
"I think it's so important for us to stand up and make a statement that we are for justice because God's heart is for the poor and the widow," Ben says. "We want to be known for who are as people of faith rather than the little things that we protest against. That itself can go a long way in bringing the world toward seeing who God is."