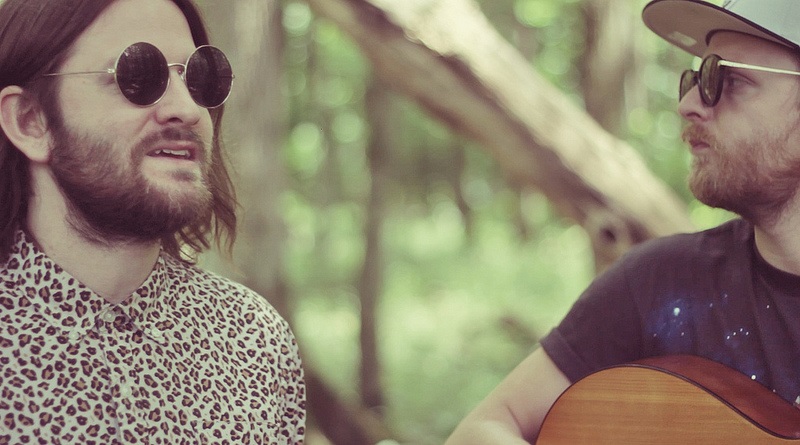 Tell us a bit about how you came up with the name The Royal Royal. We liked the Biblical theme of royalty in the New Testament, the rest was artistic liberty.
What was it like going from brothers singing worship together at church to brothers who are releasing studio albums? Not much of a difference—the studio is a place where we get to be more creative and have more fun. Live can be a challenge when you're a two man act most of the time. We pretend like we're a 20 man act in the studio. Haha.
Your single "The Lights" had a lyric video a few weeks ago. You also have a new single called "Every Little Bit of Praise." What are those songs about? Both songs are upbeat worship songs meant for corporate application; that isn't to say that they don't translate in any other context, but simply that we envisioned the songs as ones people can sing together. We love Christian joy and we believe that joy has a sound or expression to it, and if it is missing from our corporate expression then the Gospel isn't being properly portrayed. This is our chance to be bringers of joy in the church at large along with many other artists that are doing so.
Your new album The Return of the King is releasing very soon. How has working on that project been? A total blast, a memorable experience, a trying experience, an up and down, wonderful and rewarding experience. We were surprised with the songs: our favorites turned out to be the underdogs.
What is the story behind The Return of the King? Our eschatological framework, namely that our lives are to be lived in anticipation of Christ's return. Every song has that at a 10,000 foot level.
You've been on tour with The City Harmonic and Shawn McDonald, how has that experience been? More fun than any other tour—probably a Canadian thing. The City Harmonic boys are generous and golden-hearted, really made us feel at home; they love theology and the bus has basically been a commons debate from point A. Shawn and his guys are almost Canadian as they're Northerners, so they tolerate our wacky Commonwealth antics, and occasionally join in. We really love Shawn.
Any fun stories from the road? My brother tours around Wal-Mart in the courtesy motored buggies just about every chance he gets—the boys love that. Makes for a lot of interesting conversations. My guitar got stolen last week at a show. That was fun.
Do you have any tour plans after the album release? Working on a number of things for the spring, nothing locked in yet. A bunch of fly dates in between now and then—AZ, CA and then IL and PA in December.
Do you ever miss living in the great white north? Yes and no—we miss our friends and family, we don't miss Canadian winters. My wife is Australian and she suffers whenever we're in Canada.
Nathan, you lead worship at a church in New York, and Gabriel in Chicago. How does it feel living apart yet doing the same thing? It's actually the best thing ever. We really love our home churches (Hillsong NYC and Harvest Bible Chapel) and from that good soil we get to come together and create. It's always good for two brothers to have some apart time. We get scrappy if we are together for too long. Not like Liam and Noel, but maybe like whiney toddlers who need a nap.
Is there anything that you would like everyone to know about The Royal Royal and your music? Yes—that you'll like what's coming up!