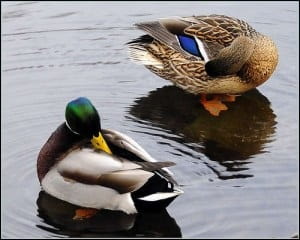 I just finished reading the book by Phil Robertson, Happy, Happy, Happy and I am even more impressed with this man than I was before reading it. For those who do not know, Phil Robertson is the patriarch of the family showcased on the reality TV show Duck Dynasty. He is also the inventor of a line of duck calls known as 'Duck Commander'. The family resides in West Monroe, Louisiana. This book is his autobiography.
As impressive as his business career has been, it is Phil's spiritual journey and his current evangelistic zeal that has endeared him and his family to me, and many other Christians. Through what Phil sees as God's hand in his life, the Robertson family has been thrust into the public spotlight. As Phil sees it, this is the perfect time and venue to aggressively spread the Gospel of Jesus Christ.
Phil's Journey
Phil Robertson was not always a God-fearing Christian. Like so many others, he experienced the destructive consequences of his sinful lifestyle. Being an intense man, one who fully commits himself to anything he sets his mind to, Phil intensely became involved in a life of drinking. It is fact born out over and over again that sinful living brings with it terrible consequences and misery. During his drinking days, Phil almost lost his wife and family.
God had a different plan for Phil Robertson, and He arranged for good people to pursue Phil with the Gospel of Jesus until Phil realized his need for forgiveness and salvation. As I said before, Phil is an intense man, and he quickly became an intense Christian.
Phil-osophies
On the television show, Duck Dynasty, we get to see a sampling of Phil's philosophy (pun intended); however, the book expands and develops his thinking and really gives the reader an in-depth look at this man whose main goal in life is following God's will.
Along with the story of his life, Phil covers subjects near and dear to him; such as his disdain with newfangled technology, his love for hunting and the woods, his evaluation of women, his work ethic, disciplining children, forgiveness, eating crawfish, and his love of sharing the Gospel with those he comes into contact.
One chapter that really resonated with me was the final chapter, "Founding Fathers" [subtitled Read the Bible (We Can Still Save This Once-Great Country—It's Not Too Late)]. This spoke to my belief that Christians should have a positive attitude towards evangelizing the country, and the world. Too many Christians have the idea that it is inevitable that life on earth becomes more and more Godless until the end of time. Therefore, far too many believers simply live out their faith in quiet anticipation of the end, not believing that things could be changed if they became active and vocal in sharing the Gospel.
Phil believes, as do I, that it is the Christian's responsibility to vote and participate in the political arena. He puts it this way, "I'd never voted until I was twenty-nine, but I decided I ought to do so in order to help put godly men and women in positions of authority - instead of a bunch of heathens – since God works through people" (p.205). If Christians remain silent in any area of life, the only voice that will be heard will be the voice of the godless.
A slice of lovable redneck life
This book is full of interesting stories, colorful characters, and a wonderful look at a manner of living that most in this day and age have never experienced. Phil's story is a story of a hard, but good, life lived in an old world way where one catches, kills, grows, or trades for the necessities of life. I found the book fascinating and the one thing I did not like about it was that, far sooner than I liked, it was over. Much like every episode of Duck Dynasty (which can be seen on the A&E Network), the book ended sooner than I wanted it to.
Conclusion
I have found the Robertson family, and their friends, to be very wholesome and refreshingly clean; plus, they are very open and vocal about their faith in Jesus Christ. I highly recommend this book as a positive force for the Gospel. Christians should be glad that a show that reveals a family's deep faith in God in being broadcast on national television. We should be praying that their faith remains strong and that stardom does not lure them into doing anything that God would not have them do. Believers should rejoice that the message of Jesus is being presented in an honest and winsome manner. A shining example of biblical evangelism.
Resources: Phil Robertson, Happy, Happy, Happy. Howard Books, 2013, www.youtube.com, ESV Holy Bible, photo credit: Tony Fischer Photography via photopin cc
Guest Post By: Robert Driskell
Robert received a Bachelor of Arts degree in both Pastoral Ministries and Biblical Studies from Mid-America Christian University in 1995. He is convinced that the hope of the world lies in men and women having a saving relationship with God through faith in Jesus Christ. Robert believes that the Bible contains the truth that God wants us to base our lives upon. He is passionate about understanding the Bible and helping others do the same. Only when one views life through the lens of the Bible can one arrive at a worldview based on truth. Robert is happily married and lives in Oklahoma City, Oklahoma.