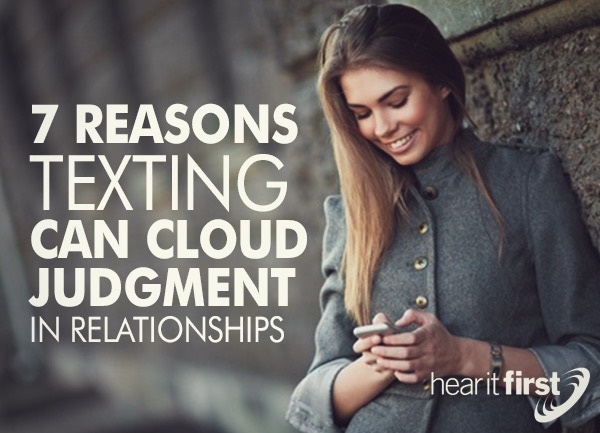 It's just about everywhere—in the car, at work, in the restaurant, at the store, in school—almost everyone texts. It's become our most dominant way of communicating with family, friends, and co-workers. Texting can keep a conversation going all day or even into days.
While there are some benefits and conveniences to texting, we must be careful to not let it take away from the building of good relationships. People who spend most of their communications through texting, lose out in more ways than those who balance with other ways of connecting with each other. Look over the 7 reasons texting can cloud judgment in relationships:
Reason #1) Texting can't replace personal touch.
"Jesus reached out his hand and touched the man. 'I am willing," he said. 'Be clean!' Immediately he was cleansed of his leprosy" (Matthew 8:3).
Leprosy was a feared chronic illness of Jesus' day. Jews did everything they could to avoid the uncleanness of a leper. Jesus could've just spoke a word and the man would've been healed. But instead Jesus touched him and he was made whole at that very moment. There is more power in the physical touch than texting when we love on one another in Christ.
Reason #2) Texting encourages presumptuous responses.
"My dear brothers and sisters, take note of this: Everyone should be quick to listen, slow to speak and slow to become angry" (James 1:19).
Sometimes when we are unexpectedly attacked by the words of others through texting—we want to snap back an equally offensive reply. However we are to show restraint through the power of the Spirit. We must be careful about having an ongoing disagreement with texts. It would be best to stop and pray for God's guidance in times of discord.
Reason #3) Texting masks as an easy way out of dealing with difficult issues.
"Instead, speaking the truth in love, we will grow to become in every respect the mature body of him who is the head, that is, Christ" (Ephesians 4:15).
Many people text for break ups or last minute cancellations in order to escape the face-to-face consequences for their behavior. However when we treat people with the graciousness of God through the Holy Spirit, we become more aware of the right way to treat people—the Golden Rule. Be a man or woman of courage and deal justly with people just as we want to be treated.
Reason #4) Texting can hinder true heart felt communication.
"I will search for the one my heart loves. So I looked for him but did not find him" (Song of Solomon 3:2).
There's a time and place for texting words of affection to your loved one. However it will never replace the face-to-face sharing of affectionate words. Love expressed in words and action seal memorable moments on the heart and mind. Resist the cold responses of texting to the warmer expressions of love through the written or spoken words.
Reason #5) Texting breeds fertile ground for assumptions.
"Desire without knowledge is not good—how much more will hasty feet miss the way" (Proverbs 19:2).
Texting more than talking in a relationship can open wide the door for confusion and assumption. Our many words in texting can be misunderstood causing wasted time of trying to figure of what someone is trying to say. Unclear assumptions can irreparably damage close friendships. Rather than walking in the fog of guesswork, take the time to discuss your expectations in a relationship.
Reason #6) Texting can be a one-sided conversation.
"But since you refuse to listen when I call and no one pays attention when I stretch out my hand" (Proverbs 1:24).
Obviously it's much easier to avoid returning a text than having to communicate with someone. At the same time, sending a text over and over without a response over a prolonged period of time could be a sign as well. Believers are people of relationship—first with God and then with each other. Strong friendships are built on a lifetime of sharing back and forth through multitudes of communication styles.
Reason #7) Texting doesn't replace sharing your faith story or witnessing.
"They triumphed over him by the blood of the Lamb and by the word of their testimony; they did not love their lives so much as to shrink from death" (Revelation 12:11).
Going back and forth through texting in attempts to witness to another person has a time and place. However, it shouldn't always be the primary way of sharing Christ. Ongoing verbal dialog or even the old-fashioned way of pen and paper are also effective. Body language, voice fluctuations, and facial expressions all have a place in knowing where the Spirit is leading you in witnessing to others.
"God's not Dead"
Texting played an important role in the popular movie "God's not Dead" as everyone who saw it was encouraged to text to their family and friends. It's fun to occasionally get the text from those who are just seeing the movie. But what do you do after sending the text? Do you follow up with a phone call or visit? Let's be people of faith and action in growing and building strong relationships.
Article by Crystal McDowell
Crystal McDowell is a writer, speaker, and teacher with a passion to encourage believers to know and grow in their relationship with Jesus Christ through practical application of God's word.
Crystal and her husband, Marshall, raise their five children in the Bloomington, IL. As a freelance writer and editor for over 13 years, Crystal has published numerous Christian curriculums for Sunday School and VBS as well as many articles dealing with marriage, motherhood, and relationships. She's a weekly staff writer for www.whatchristianswanttoknow.com as well as writing her own blog at http://crystalmcdowellspeaks.blogspot.com.