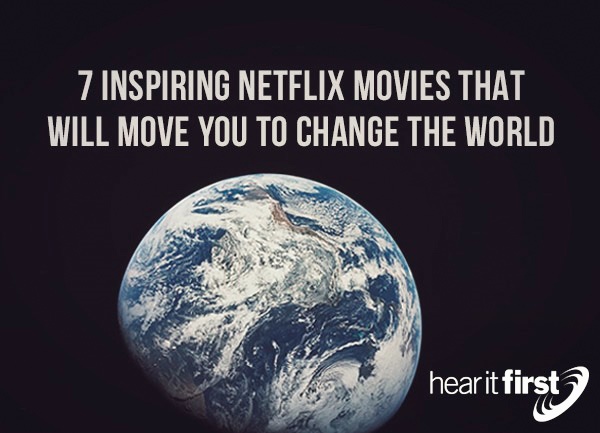 Here are seven Netflix movies that could inspire you enough to change the world, at least your corner of it.

Braveheart
When William Wallace returns to his homeland of Scotland, he is appalled at the oppressive rule of England's iron fist. After the king of Scotland died, the ruthless pagan known as Edward the Longshanks, seized the throne, and now Wallace, having already lost his parents, he now loses his beloved wife. In Wallace's determination to break free from King Edward I, he gathers a considerable number of irritators, who try to win freedom for Scotland. Wallace seeks to align with Robert the Bruce to have sufficient forces to free themselves from English rule. It's an impossible looking task as the English have superior numbers, weapons, equipment, as well as a cavalry, and there's a huge surprise waiting for Wallace and his men who find out just before the battle that they've been betrayed. Wallace wasn't there to see the eventual freedom that came to Scotland, but he was the inspiration behind it, and this man most certainly changed the world for Scotland and England. Maybe it can inspire you to change your own part of the world….and beyond?
Rudy
This is a very touching story about climbing mount impossible and reaching for the unreachable. Rudy was a below average in many people's eyes but he was determined to play for Notre Dame Football someday. He refuses to give up after being rejected by the school and then ridiculed by his family and friends. They think he's out of his mind…but it doesn't appear that Rudy's father has given up on him at least entirely. On top of that, he suffers from dyslexia and he doesn't look built for football as he's smaller than the average male his age. All of this comes just after his best friend died. Despite all odds, he makes the team but sits the bench, awaiting his time. This movie inspires a lot of people to persevere and persist, despite longshot odds that seem far too great.
The Perfect Storm
This is one of the most moving films in the first part of this century. Billy Tyne, a veteran fisherman who has had a bad stretch of luck over a period of months, sets out for the catch of a lifetime on his fishing boat, looking for the catch of a lifetime. Unfortunately, that means he must take his crew all the way to the Flemish Cap, which has some of the fiercest storms there are. Though they come from the south, they can build up rapidly as they travel north, so the Flemish Cap can be in the bull's eye of a Nor'easter, or an upper Atlantic hurricane, which is the case in this movie. It's only once every hundred years that a perfect storm hits like this; when a strong tropical depression forms, and a sharp, contrasting cold front slams into it. One storm feeds off the other until it grows into a full-fledged hurricane, a storm of the century, a perfect storm. Not so perfect if you have to be in it. George Clooney and Mark Wahlberg star in this very inspirational movie.
Rocky
Ever feel like giving up? So did Rocky Balboa who is the main character in this movie. It begins with a Philadelphia boxer who was struggling with just about everything in life. He even gets kicked out of the gym by the owner. To add insult to injury, Rocky was then tricked by a loan shark and soon after, rejected by a girl who he wasn't even impressed. Rocky was on the ropes until the heavyweight champion Apollo Creed offered to box anybody, or as he insultingly referred to them, a chance for a "nobody to become "somebody." The only chance Rocky had would be to train under his cantankerous trainer, the Italian Stallion. Rocky at least now has at least three purposes; the challenge by Apollo Creed to motivate him, the training to prepare him, and chance to take on the heavyweight champion and make a name for himself.
Hoop Dreams
Hoop Dreams is a gripping story of two young African-American teenagers who have dreams of breaking out of their poverty-stricken lives and playing in the NBA someday. The first issue that William Gates and Arthur Agee face is that they have to attend an overwhelmingly white school and are extremely poor while most of the student body live in nice neighborhoods and are almost all white, so these two teens begin train with one another and they manage to improve their athletic skills right before your eyes in this documentary. Just how these two young men overcome racial prejudice, economic depravity, and social stigma is truly inspiring.
The Undefeated
The movie, The Undefeated, is a highly inspiring movie and deserving won an Academy Award in the Best Documentary Feature category. Don't let the fact that this is a documentary keep you from watching it. Once you start watching, you'll be caught up in their struggle. This is a very moving account about a small high school football team, the Manassas Tigers, and their coach, Bill Courtney and his motivating them to do things that they didn't think were even possible. The coach manages to have the team reach a state of excellence as they had never before in their history and the reality of this documentary is not in the casting but in the actual characters being real-life people. There are a few unscripted times where tears of emotion surface, making it even more genuine.
The Rosa Parks Story
Rosa Parks has been called "the first lady of civil rights" by the United States Congress and that is certainly true. She was arrested for not giving up her seat in the so-called "colored section" for a white lady passenger who was left without a seat in a full "white section" of the bus. This woman bravely stood up to intimidation, threats, hatred, racial prejudice, and finally, arrest. She wasn't going to back down. This was one of the first "civil rights" claims for equal rights that were ever made in this nation. This simple seamstress would change the society in which she lived like few others have. This woman's brave act of peaceful defiance eventually led to a boycott of the Montgomery, Alabama bus system. She changed so many things for so many people. This is a very inspiring movie.
Conclusion
I realize that some of these movies are older, but time doesn't diminish those things that transcend time, like family, love, perseverance, trials, impossibilities, and where great fear and great risks lead to great rewards. I know I must have missed some very inspiring movies like Gandhi, Buffalo Soldiers, The Patriot, and so many others that changed the world. There are some I'm sure are greater, but these are part of the seven most inspiring Netflix movies you will ever see.
Article by Jack Wellman