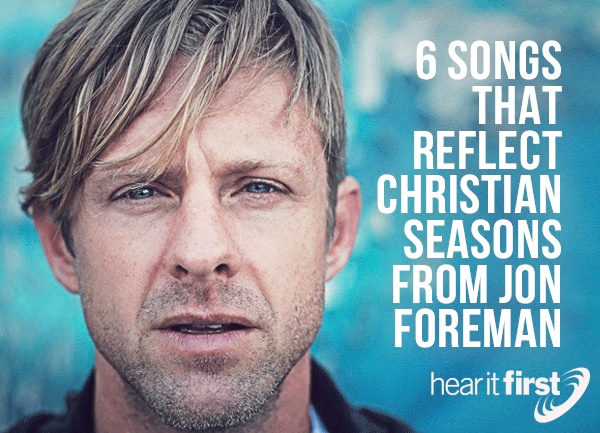 Jon Foreman is the lead singer and co-founder of Switchfoot and has been working on solo albums while not traveling around doing the whole performing thing with the Grammy Award-winning band. One of his solo projects is a series of four EPs called The Wonderlands. The first two, Sunlight and Shadows, released over the past few months and the remaining two, Darkness and Dawn, will release later this year. Jon has the unique ability to capture strong emotions about the various seasons we go through in a profoundly poetic way.
Here are six songs that reflect Christian seasons from Jon Foreman.
6. "Your Love Is Enough" from The Wonderlands: Shadows
We all face doubts, fears and feel like we are drowning in our own thoughts that resemble chains weighing us down. "Your Love Is Enough" is about how strong God's love is during a season defined by fear and doubt. God can help us stand up, regardless of what this season means this moment and for your future.
5. "The Mountain" from The Wonderlands: Sunlight
What is your mountain? My mountain is trying to find balance in a changing schedule with many things to balance. Life would be easy if Satan didn't exist to feed us fears and confusion. We can only look up and have faith larger than the mountain as we begin running uphill. God promises that we will reach the summit as long as we don't give up.
4. "Ghost Machine" from The Wonderlands: Shadows
"Ghost Machine" takes an in depth look at time. Time is fleeting and although we are all given the same number of minutes each day, we often think we have more time. The most striking lyrics for me are: "The clock – the altar of our time / The thought – the temple of our mind / Then I've been sprinkling the blood of most my life / On the altars of my ghost machine." It's easy to live based on promises and hopes and dreams, but we can't get wrapped up in what will not happen or what has happened in the past.
3. "Terminal" from The Wonderlands: Sunlight
What is worse than being diagnosed with a terminal illness? Being terminally ill spiritually. Life can be cruel and unfair, leaving you to live in a state of misery and despair. Coming to Christ, as Jon sings, means, "We are, we are the living souls." Maybe the person who is grumpy everyday for no apparent reason is dealing with a broken heart. We all go through a season of being terminally ill spiritually, but we don't have to stay there.
2. "Good For Me" from The Wonderlands: Shadows
A season I've gone through as a Christian is deep questioning over how different things in my life affect my soul. The Bible says that not all things are bad, but not all things are beneficial for us. Is the movie I'm watching feeding my soul? Is the person I'm getting advice from speaking truth? Is the new book I bought adding value to my faith journey? "Good For Me" explores this exact concept and the season of questioning that leads us to changing our lives to become more Christ-like.
1. "Patron Saint of Rock and Roll" from The Wonderlands: Sunlight
Summer is a popular time for small and large communities to come together and organize festivals. Parades take place honoring different people for the work and legacies they are leaving. Jon poetically questions the people we honor and label as patron saints when the people honoring them aren't living out the legacies. How often have you seen a so-called Christian snub and label the less fortunate as sinners? We can end this season of casting stones and begin honoring Christ's mission by actively loving those around us.
Conclusion
Jon Foreman brings to light many Christian seasons that we all experience – sometimes over and over again. Seasons of doubt, facing life's challenges, realizing that time is limited, feeling spiritually sick, questioning what is speaking to our souls and recognizing hypocrisy each have the potential to increase our faith in God. These seasons also have the ability to bring us down. I'm grateful for the creative way Jon brings each season to light because we need a reminder when we are either in the midst of a troubling season. You can purchase the full Sunlight and Shadows EPs on iTunes. Don't forget to follow Jon Foreman on Facebook, Twitter and Instagram!
Article by Elise Cleary
I'm a Christian writer and editor residing in northern Michigan and thoroughly enjoy Christian centered music, movies, TV shows and books. A favorite song is "Oceans (Where Feet May Fail)" by Hillsong United and I find many songs by Matt Maher, Tim Timmons, Third Day, Laura Story, Jeremy Camp and numerous other artists uplifting. A few of my favorite Christian movies include God's Not Dead, The Shunning, Do You Believe and many by the Kendrick brothers. When I'm not writing, I enjoy running, experimenting in the kitchen and spending time with my musically gifted husband and spunky daughter. I am so blessed and in awe of the work God is doing throughout the Christian entertainment industry.