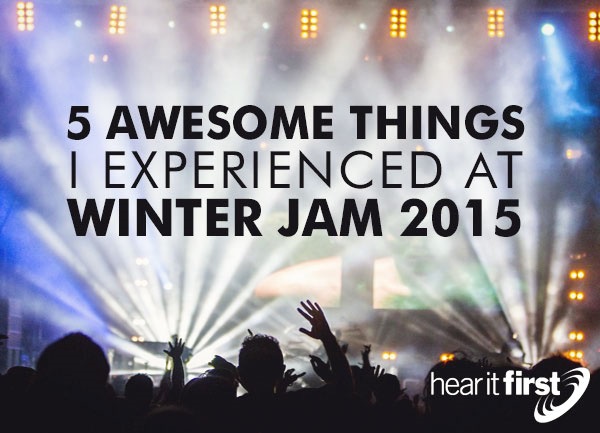 Earlier this year I had the opportunity to attend Winter Jam 2015 and was so grateful I went! This was my first year going, so I didn't exactly know what to expect. I knew most of the bands that would be performing, including Francesca Battistelli and Jeremy Camp. The group I went with had gone in previous years, so they recommended becoming a citizen of Jam Nation in order to walk right in without waiting in line – Grand Rapids is freezing in January! I left the concert more blessed than I could have imagined and still reflect on seeing the incredible performances and hearing Tony Nolan share inspiration and encouragement.
Here are five awesome things I experienced at Winter Jam 2015:
5. Extremely High Energy
How else do you describe the energy imploding from Blanca and Deena (VERIDA) singing, the vibrant colors of Family Force 5, for KING & COUNTRY running around the arena while playing the drums and singing, Skillet rocking amidst shooting flames. It's amazing to see children, teens and adults on fire for Christ.
4. Bands Performing Together
Winter Jam Tour brings artists of many genres of Christian music together and it creates oneness. The closing act included all the artists on stage – if you have attended one of the concerts you may recall the number of instruments. God was glorified in a mighty way as they sang and performed together with thousands of people in the audience singing along.
3. Checking Out New Artists and New Songs
I admit that I wasn't a huge Skillet fan before Winter Jam, but I'm totally hooked now! It was also really awesome to see Blanca (formerly of Group 1 Crew) who's song "Who I Am" has topped the charts over the past few months. VERIDA and About A Mile are now on my "must watch" list as their music brings truth in such unique ways. Seeing Jeremy Camp perform "He Knows" on stage was incredible. This song was released earlier this year and it immediately sunk in. Oh and I was able to purchase Jeremy Camp's new CD I Will Follow with the first four songs before it was released earlier this month.
2. Tony Nolan Speaking
Tony Nolan, who is the pastor on tour, did a phenomenal job speaking encouragement and the truth in a powerful way. He used his own testimony of how God saved him – he was severely abused in so many ways as an infant and toddler. I'm certain there were few dry eyes in the room. He didn't just speak about God's love – he gave clear Biblical instruction on why you must turn to God. Getting this message across to a younger generation can be challenging with so many distractions, but he was extravagant. He gave God all the glory and praise as he continued to share how he and his wife adopted a little girl from China. There was so much truth, love and encouragement from the words he spoke with an open and transparent heart.
1. Love Offering
Winter Jam Tour started with NewSong in 1995 and it was a complete step of faith. They felt lead to perform and take a love offering to cover expenses. The tour has grown considerably with artists such as TobyMac, Third Day, Newsboys, Skillet, MercyMe and Lecrae performing, but they maintain the love offering. This continues to help them cover the costs, but they also donate a portion to a charity or mission that is within the city they are performing. I love how they support local missions in this manner. Winter Jam also supported Holt International in encouraging attendees to sponsor orphans from around the world.
One extra blessing was getting to meet George Moss of OXEN who happened to be sitting right in front of me. This shows how much Christian artists support each other and are encouraged by the words and music of others. Winter Jam Tour Spectacular 2015 has toured all over the U.S. since January and there are 15 more shows to go! This show is truly a blessing and you can purchase tickets at the door for only $15 or become a citizen of Jam Nation for an upgraded experience. Each show is slightly different since the venues change and they bring in guest speakers and hosts, such as Sadie Robertson, but God's blessing flow richly. Only God truly knows exactly how each life was touched through the show or the live stream online. What was your favorite part of Winter Jam?
Article by Elise Cleary
I am a Christian writer and editor that lives in northern Michigan and thoroughly enjoy music, movies, TV shows, books and other entertainment with a Christian focus. My favorite song is "Oceans" by Hillsong United because it reminds me that has big plans for me and everyone else who puts their trust in Him. There are many movies that have impacted my life, but a few include God's Not Dead, The Shunning and Letters to God. When I'm not writing I enjoy watching movies and laughing with my busy toddler and husband.