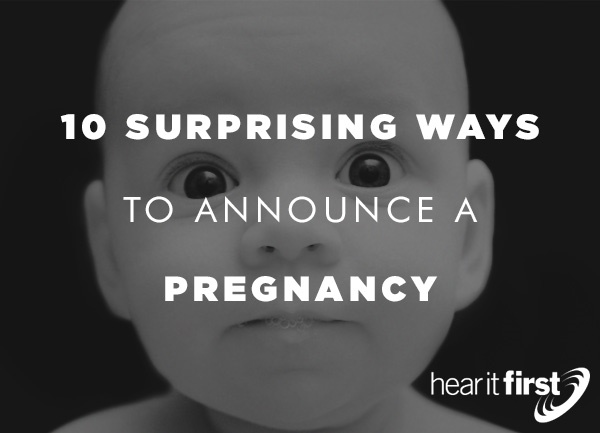 Are you expecting a baby soon? Maybe it's your first child or an unexpected addition to your family. Announcing your pregnancy and even holding a gender reveal party have become fun ways to bring your family and friends into the fun of preparing for your new bundle of joy (and sleepless nights). A great baby announcement brings in the fun of a new bundle of joy and all the members of your family – pets included! Be creative and have fun!
Here are 10 surprising ways to announce a pregnancy.
#10 Funny Expressions
If you have a child, take a picture with one of their fun expressions and add the words "Big Sister" or "Big Brother". A surprised face or grumpy expression works well on an announcement.
#9 Baking a Bunn Picture
Have your significant other stand next to your oven while looking at your belly! Hold a mixing bowl and spatula and turn the oven light on while standing nearby. This is a very sentimental way of announcing your pregnancy, especially if you love to cook and bake.
#8 Guess Who's Pregnant
This one is fun if you have guy friends or a crew of brothers! Have everyone stand in a row holding their bellies and take a photo. Play up the humor of this and make it meaningful by including the generations of men in your family and add the phrase "Guess Who's Pregnant!" on the front of the announcement.
#7 Hysterical Video of the Kids
If you have other kids, videotape when you tell them they are going to have another sister or brother. Whether your kids love the idea or feel there are already too many members in the family, you can't predict the reactions and it will be funny to look back on later!
#6 Child with Eviction Notice Sign on the Crib
This announcement is a friendly play on how a new baby will affect an older sibling, especially if older brother or sister is between one and two years of age. Of course, you don't really evict your older child from their bed, but you may focus on certain adjustments to help ease the transition of have two little ones.
#5 Pet Holding a Bib or Sign
Pet owners often refer to their dogs, cats and other pets as their family members because of the love and protection they offer. Place a bib around your pet that says "Big Sister" or "Big Brother" with the due date. You can also write the details on the sign and play on the fact that your pet will love and protect the new family member.
#4 Coming Soon Sign
Use any baby item, from a baby bottle to cute baby shoes and set a sign nearby that says, "Coming soon". You can also add an arrow to the sign pointing to expectant mommy. Mail the announcement or post it on Facebook!
#3 Customized M&M's
Order M&M's that say "BABY" or just the letters "B", "A" and "Y" and spell it out as a table decoration. This is a fun way to announce it at a family gathering or party when the majority of your friends and family are together. If you won't be at a party anytime soon, you can take a photo of the M&M's and post it online!
#2 Dad Version, Mom Version, Baby Version
The idea is to combine two big versions of something and add a baby version (or two). I've seen many ways of doing this, from two adult bikes with a tricycle, two pair of adult shoes with baby shoes, t-shirts, pants and even vehicles! This type of baby announcement offers a great opportunity to show how you will modify what you love to do for your baby, such as riding bikes.
#1 Take a Family Photo
If you have an older child or multiple children, have them hold a cute sign that says "Big Sister" or "Big Brother". Keep the focus on the kids, but show the expecting parents in the background. Ask the kids to make any expression they want!
The best surprise baby announcements come from the heart and it's fun to choose a theme that reflects your family. Have fun with the announcement and include your family and friends during this joyful (and surprising) time! Grandparents especially love to hear the news of a new baby in the family, so find a fun and loving way to break the news. This will also raise the level of excitement as you deal with any stress that the changes bring.
Article by Elise Cleary
I am a Christian writer and editor that lives in northern Michigan and thoroughly enjoy music, movies, TV shows, books and other entertainment with a Christian focus. My favorite song is "Oceans" by Hillsong United because it reminds me that has big plans for me and everyone else who puts their trust in Him. There are many movies that have impacted my life, but a few include God's Not Dead, The Shunning and Letters to God. I also write for www.faithandentertainment.com and love connecting with readers, so please don't hesitate to contact me! When I'm not writing I enjoy watching movies and laughing with my busy toddler and husband.