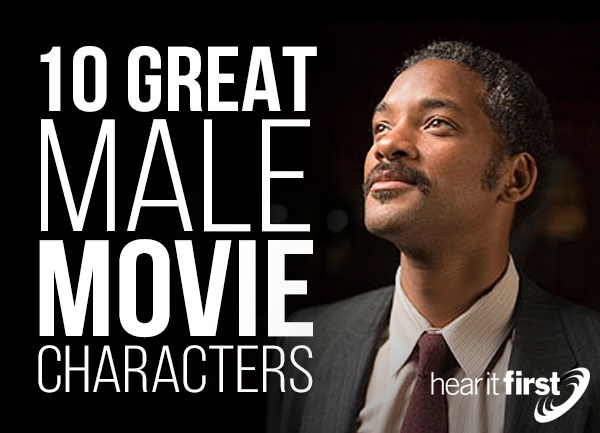 Who is your favorite male movie character? Batman? Captain Jack Sparrow? Iron Man? There are many great characters, both fictional and based on real people. Movies transport you to a different time and place that can unlock new ways of thinking and insights into what a certain situation is like. Here are 10 of the greatest male movie characters of all time from clean movies. Please note that most of these are family-friendly, but some should be viewed with adult supervision.
#10 Bob Wiley from What About Bob? (1991)
Bob Wiley (played by Bill Murray) is a new patient of psychotherapist Dr. Leo Marvin (played by Richard Dreyfuss). He is excited to meet with Dr. Marvin, but has a panic attack when he learns that the doctor is going on vacation for the next month. Wiley uses the book Baby Steps to find his way to Dr. Marvin's vacation home and everyone welcomes him to stay except the doctor, who ends up going crazy! This is a family-friendly movie that will keep you laughing!
#9 Rick O'Connell from The Mummy (1999)
Rick O'Connell (played by Brendan Fraser) is the face of bravery in The Mummy and leads an archaeological dig with a group in the city of Hamunaptra. Another group is also digging at the site and accidentally unseals an ancient curse. 'The Mummy' is alive and O'Connell has to figure out how to break the curse.
#8 Dumbledore from Harry Potter and the Sorcerer's Stone (2001)
Harry Potter and the Sorcerer's Stone is the first movie in the series of seven and fans quickly grew to love Dumbledore, the headmaster of Hogwarts School of Witchcraft and Wizardry. He is wise and commands respect by respecting others and leads with an understanding of a person's true intentions. Dumbledore was originally played by Richard Harris, but Michael Gambon took over the role for all the films except the fifth movie after Harris died in 2002.
#7 Spider-Man / Peter Parker from Spider-Man (2002)
Peter Parker (played by Tobey Maguire) just wants to fight crime while having a normal life, but there is nothing normal about being Spider-Man. He is a normal man during the daytime and transforms into Spider-Man at night.
#6 Dr. Alan Grant from Jurassic Park (1993)
The Jurassic Park movies have become classics that I grew up with. Dr. Alan Grant (played by Sam Neill) has to lead guests and two children out of the dangerous park after a power outage allows the dinosaurs to roam free. He is the leading paleontologist in the world, but isn't a proud man set on greed. Dr. Grant chooses the safety of others over endorsing Jurassic Park.
#5 Gerry from P.S. I Love You (2007)
Gerry (played by Gerard Butler) is a young man married to the woman of his dreams. He becomes ill and dies, but came up with a plan to help his dear wife cope with his death and gain closure. It's hard not to love how sweet and caring Gerry is and how he put the needs of his wife above his own.
#4 Harry Stamper from Armageddon (1998)
Harry Stamper (played by Bruce Willis) is recruited by N.A.S.A. to destroy an asteroid heading toward Earth. The group has 12 days to train to work in space and Harry Stamper has to lead the crew home, with near-death experiences. This film is best suited for an adult audience.
#3 Superman / Clark Kent from Superman (1978)
The original Superman movie is a genuine classic! The performance of Christopher Reeve as Superman is not quickly forgotten. Sent to Earth as an infant, Kal-El learns he is not like other children or adults because he has the strength of Kryptonite. He faces many challenges, but uses his power to fight crime.
#2 Andrew Martin from Bicentennial Man (1999)
Andrew Martin (played by Robin Williams) is an android robot that lives with the Martin family. He is not like typical droids because has the ability to connect with humans deeply and is constantly learning. Years after first joining the Martin family, Andrew sets out to find a way to become a real man and unexpectedly meets Portia Charney, the granddaughter of Amanda Martin from his original family.
#1 Chris Gardner from The Pursuit of Happyness (2006)
Chris Gardner (played by Will Smith) was a man down on his luck, but brilliant with numbers and unwilling to let his big opportunity to become a stockbroker pass him by. As this door is opening, his wife leaves him as a single dad after becoming fed up with his failed attempt to recoup his investment in bone density scanners. The movie is based on a true story and portrays the real struggle that Gardner faced.
Was your favorite male movie character listed? Many actors have left and are leaving legacies playing unforgettable roles, including Robin Williams, Heath Ledger, Denzel Washington, Mel Gibson, John Travolta, Jack Nicholson, Clint Eastwood, Tom Hanks and many others!
Article by Elise Cleary
I am a Christian writer and editor that lives in northern Michigan and thoroughly enjoy music, movies, TV shows, books and other entertainment with a Christian focus. My favorite song is "Oceans" by Hillsong United because it reminds me that has big plans for me and everyone else who puts their trust in Him. There are many movies that have impacted my life, but a few include God's Not Dead, The Shunning and Letters to God. I also write for www.faithandentertainment.com and love connecting with readers, so please don't hesitate to contact me! When I'm not writing I enjoy watching movies and laughing with my busy toddler and husband.