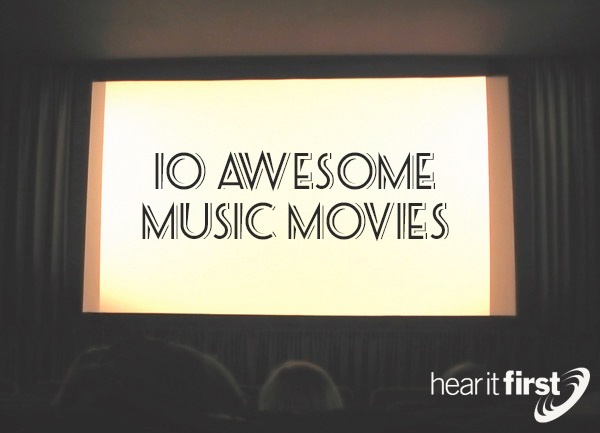 Do you love watching music movies? Kids often pay more attention to movies that include songs they can sing along to. So many memories can be created by singing through the songs together and watching your kids sing along with their friends. When you connect with those you love over music, there is almost a secret language you start speaking because you may find yourselves in lyrical melodies.
Here are ten awesome music movies to enjoy with your family.
10. Beauty and the Beast (1991 – PG)
I grew up watching Beauty and the Beast and it's still one of my favorite musical movies to watch. My favorite songs of the 15 in the movie are "Be Our Guest" and "Beauty and the Beast".
Create a fun memory by singing to your daughter, "Be our guest" when she comes through the front door.
9. Frozen (2013 – PG)
If you haven't seen Frozen, you have certainly noticed little girls wearing blue Elsa dresses, boys carrying stuffed Olaf and attire from shirts to backpacks to hats. The movie includes 32 tracks, but many of them are short clips. It's a sweet story about two sisters and what love can overcome.
Sing "let it go, let it go," when your husband comes home from a rough day at work.
8. The Little Mermaid (1989 – G)
The Little Mermaid brought little girls' dreams of being water princesses to life when it was released in 1989. Each major event in the twist and turns of the movie include a musical track, with 20 throughout the film.
Start smiling when your son begins singing, "Look at this trove, treasures untold, how many wonders can one cavern hold?" when he's supposed to be cleaning his room.
7. Annie (1982 – PG)
I can't watch Annie without breaking out into song when the cute red head begins singing "It's the Hard Knock Life." This musical movie is family friendly and kids can quickly learn each of the 15 songs in the film.
Remind your kids that "the sun'll come out tomorrow, bet your bottom dollar that tomorrow there'll be sun," when the rain changes your beach plans.
6. The Lion King (1994 – G)
The Lion King smashed many records and received countless awards when it was released in 1994. This was not only because of the incredible graphics and storyline, but also because of the music. It was assumed that music groups everywhere knew "Hakuna Matata" and could belt out the lyrics at any given moment. The original movie includes 12 tracks, including "Circle of Life", "I Just Can't Wait to Be King," and "Can You Feel the Love Tonight."
Feeling stressed lately? Remind yourself that, "Hakuna Matata, what a wonderful phrase, Hakuna Matata, ain't no passing craze, it means no worries for the rest of your days."
5. Pocahontas (1995 – G)
Disney released Pocahontas in 1995 and it has since become a favorite for countless children. The song "Colors of the Wind" won a Grammy Award, Academy Award and Golden Globe Award. There are 28 songs in the original film, including "Listen with Your Heart" and "If I Never Knew You."
Is your daughter dealing with a rough spot with a friend? Remind her to, "Listen with your heart, you will understand."
4. Mary Poppins (1964 – Not Rated)
Mary Poppins is an older movie, but a musical classic. It received thirteen Academy Award nominations and included 17 tracks. My favorite songs are "A Spoonful of Sugar," "Supercalifragilisticexpialidocious," "Let's Go Fly a Kite," and "Chim Chim Cher-ee". Julie Andrews plays Mary Poppins in the 1964 version produced by Walt Disney.
Run up to your kids and start singing, "A spoonful of sugar makes the medicine go down," to make a fun memory.
3. Peter Pan (1924 – Not Rated)
Do you know anyone who doesn't love Peter Pan? There have been so many versions and remakes of this beloved musical. It was originally based on the Peter Pan play, also known as The Boy Who Wouldn't Grow Up, by J. M. Barrie. There are eight different songs in the original version, including "You Can Fly!", "A Pirate's Life," "The Elegant Captain Hook" and "Never Smile at a Crocodile."
When you son wakes up in the middle of the night with a dream, sing him, "think of a wonderful thought, any merry little thought, think of Christmas, think of snow, think of sleigh bells, off you go like reindeer in the sky."
2. The Sound of Music (1965 – G)
Julie Andrews was also in The Sound of Music, a classic and beloved musical movie. Maria Rainer is a nun who is trying to find God's calling for her life. She is sent to be the governess to Captain Georg von Trapp's seven children. Maria uses songs to express her feelings and teach the kids how to sing.
Kids looking bored? Run up to them and bust out singing, "Doe, a deer, a female deer, ray, a drop of golden sun, me a name I call myself, far, a long, long way to run, sew, a needle pulling thread, la, a note to follow sew, tea, a drink with jam and bread, that will bring us back to do (oh-oh-oh)."
1. The Wizard of Oz (1939 – Not Rated)
There have been many versions of The Wizard of Oz, but I love the original 1939 version with Judy Garland as Dorothy the best! The story of how Dorothy helps the Cowardly Lion, Tin Man, Scarecrow and the rest of Oz is heartwarming, but the songs are also memorable.
You have to start singing, "Follow the yellow brick road," when you are trying to figure out directions on a road trip.
Movies loaded with songs are fun to watch, even when you have already memorized an entire movie. Take time to bridge the gap between generations by pulling out Peter Pan or The Sound of Music. What are your favorite music movies to watch with your family?
Article by Elise Cleary
I am a Christian writer and editor that lives in northern Michigan and thoroughly enjoy music, movies, TV shows, books and other entertainment with a Christian focus. My favorite song is "Oceans" by Hillsong United because it reminds me that has big plans for me and everyone else who puts their trust in Him. There are many movies that have impacted my life, but a few include God's Not Dead, The Shunning and Letters to God. I also write for www.faithandentertainment.com and love connecting with readers, so please don't hesitate to contact me! When I'm not writing I enjoy watching movies and laughing with my busy toddler and husband.