A Prayer for Difficult Times
By Heidi Vegh
"The Lord is a refuge for the oppressed, a stronghold in times of trouble. Those who know your name will trust in you, for you, Lord, have never forsaken those who seek you." - Psalm 9:9-10
No one is blind to the challenges that our world is facing today. Tragedy and hopelessness swarm the headlines, with little to no hope in sight. It can be easy to get caught up in the drama of the here and now, letting the challenges of this world and the challenges of daily life get the best of us.
I am no stranger to difficult times. I lost my husband to cancer in 2013 and was left caring for two small children. This tragedy sucked the wind out of my lungs and threw me to the ground. There were days that I didn't feel that I could go on. The weight of grief was just too much to bear.
In my most hopeless state, I remembered what I had been taught my entire life. Even though I barely had the energy to breathe, I used what breath I could to cry out to the Lord. He pulled me out of the pit of darkness, and over time, I was able to see light once again. Not without the challenges of widowhood and solo parenting that I had hauntingly in front of me, but I knew that I wasn't alone. I could eventually see a new life form, and new hope was filling my depleted lungs.
God kept His promise in my life. Although He allowed tragedy to strike, He never left me forsaken. He didn't forget about me. He comforted me, held me, and directed my steps as I slowly climbed out of a pit of despair.
The Psalmist in this passage is describing a God who will not abandon us. It does not mean that if we trust Him, we will be able to escape suffering and loss, but it does mean that no matter what we face, He will never leave us.
Despite all the tragedy happening around us, we can rest assured that we have a solid foundation in Christ. He is our true, unmovable rock that can withstand anything that this life can throw at us.
So let us remember this truth as we stand surrounded by difficulty in the world or in our own lives. Let us remember who God is and that His faithfulness to stand with us can be trusted.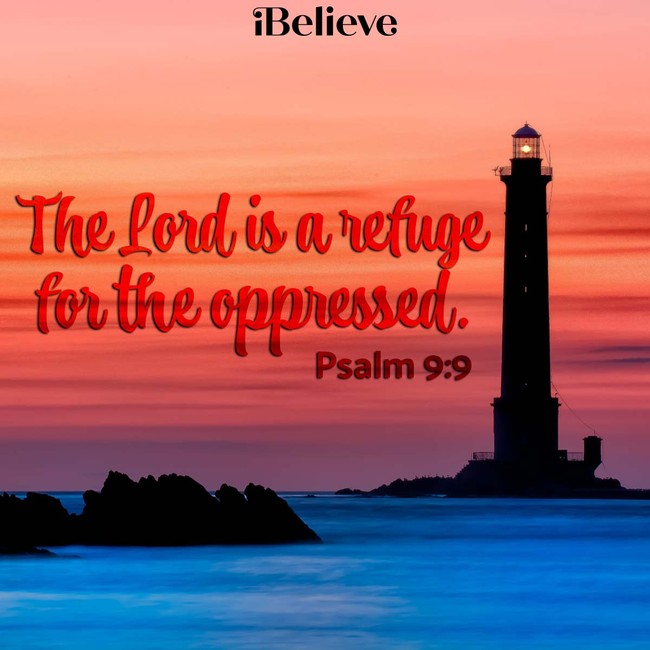 Let's pray:
Dear Lord,
Thank you for your everlasting love. Thank you that I can reach out to you in my most desperate place, and you will be with me. Thank you for the joy of our salvation and that no matter what we face in this world, we have the hope of heaven.
I pray for all those suffering around the world. There are countless tragedies that I can hardly wrap my head around. I pray for change, justice, and truth to prevail, but most importantly, I pray for your peace to surround the hurting, a peace that surpasses all understanding. I pray that your gentle arms will wrap them in a peace that carries them through difficult days ahead.
I pray for the souls that strive for evil to prevail. I pray for an awakening in their hearts that allows them to see the damage and destruction that their actions cause. I pray for their hearts to turn towards you, which is where true change in the world will start.
I pray that we as a church can stand up for justice and truth when needed and to kneel every day in your presence. Give us the strength to endure difficulty in our own lives and give us wisdom and guidance in all the places that we need it.
I pray that despite the difficulty surrounding us we can stand firm in our faith. I pray we can share the love of Jesus with all those around us and that the lies and the schemes of the enemy will not prevail.
I lift the people who don't know you, I pray you would bring people into their lives that can bring truth to their hearts and hope for their souls.
Thank you for your peace, Lord, and thank you that we can come to you and you meet us right where we are.
In your name, we pray, Jesus, amen.
Photo credit: ©SalemDesign/BethanyPyle
Heidi Vegh is a writer, speaker, and ministry leader living in Gig Harbor, WA. She is a remarried mother of four, navigating the blended family life after the loss of her first husband to cancer in 2013. She longs to use her writing as a way to encourage others who have experienced loss and guide them on the road to healing. She contributes to her blog found at www.mrsheidivegh.com , sharing stories and devotionals of faith stemming from her loss and healing, mothering, and her blended and complex family. She graduated from Southern New Hampshire University with a degree in Creative Writing and English and is working on her first book. Heidi is the Women's Ministry Director at Gig Harbor Foursquare and has a deep heart for sharing Jesus with women and encouraging them in their faith walk. When she is not writing she loves to travel, read, craft, and experiment in the kitchen. Visit her Facebook and Instagram (@mrsheidivegh) to learn more.
LISTEN to More Christmas Prayers on LifeAudio
Teach Us to Pray is a FREE prayer podcast hosted by iBelieve writer Christina Patterson. Each week, she gives you practical, real-life tips on how to grow your faith and relationship with God through the power of prayer. To listen to her episode on What to Pray in the Morning for a Worry-Free Day, click below!

Now that you've prayed, are you in need of someone to pray for YOU? Click the button below!
Visit iBelieve.com for more inspiring prayer content.